It must be a sign of the times when H&M can keep wrapping high end designers into its fold (Jimmy Choo, Stella McCartney, Karl Lagerfeld, Lanvin– but then again if Macy's just got Karl Lagerfeld, and Target, Zac Posen it wasn't long before Donatella Versace despite initial reservations (but that's her secret right?) joined forces with H&M's Margareta van den Bosch with the unveiling for their first collection.
According to those who attended it was nothing but a star fxck of socialites, celebs and the usual hanger ons aspiring for higher gravitas. Spotted (front row thank you very much) included Blake Lively (dressed in an original Versace strapless black and white mini dress- hawt bixch), Helena Christenson, Mark Ronson (in pink of course in sympathy with the collection) Sofia Coppola, Anna Sui, Uma Thurman and Jessica Alba.
The best part according to sources resigned that today was going to be a sick day (alas my dears…) was when Prince (yes why be shy when you're tending to a long star list) got on stage and started singing 'Purple Rain,' with a very pleased Donatella Versace holding court and gingerly downing a few of the bountiful champagnes (can you blame her?).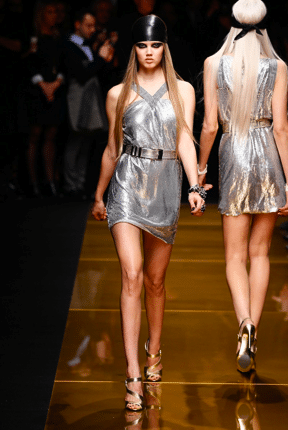 As for the collection itself it reminded our source, yes the one with the hangover, of Versace (Gianni) of yesteryear, when the doyen of high color and flamboyant design was abound. One could imagine somewhere him looking on and taking a bow…
The metallic disco dress of course according to her will soon be in her closet, we bet…
A knock out with the kids? We think H&M have got a sell out on their hands…
THE RISING TIDE OF HAUTE COUTURE DESIGNERS SIGNING ON WITH H&M. HIGH END COMES FINALLY CONVERGING WITH THE MASSES…