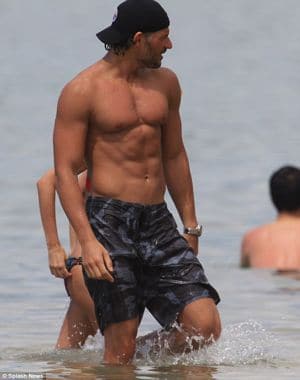 Joe's nipples are floating somewhere into the deepest recesses of my imagination…
Kids, I've had to go out and look for a sling shot to shoot my eyes back into my eye socket after gasping at the latest hawt images of our collective sunshine protein workout induced on the hour hawt bixch Joe Manganiello.
On holidays with his equally skimpy girlfriend Audra Marie in Hawaii, emergency phone calls were said to be placed by love jacked boys and girls who were desperate to climb inside Joe's pants but couldn't think of the appropriate pick up line. Personally I think if one of Joe's admirers had just walked up to him and said the following in a rather so so nonchalance way he'd probably acquiesce;
'Joe I'd like to rest my head against your chest this evening and let you believe I am the god/dess Apollo/Sheba, and every time you turn to heave I will be there with my parted lips just waiting for you to give me the go ahead…'
Don't you wish you were a shirtless hawt bixch with a protein milkshake by your side, a 40 pound barbell and a love jacked lover cruising every syllable coming out of your mouth too?