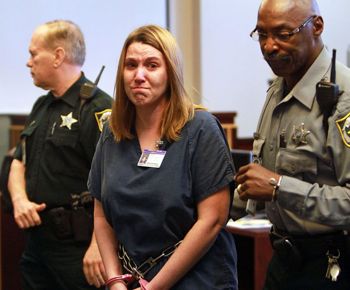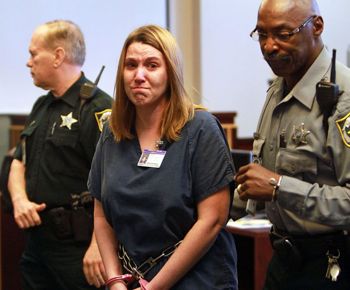 When you think of Billy Bob Thorton, the first thing that comes to mind is probably not: great father material.  He was just too natural in Bad Santa, and I know Angelina went on to becomes some sort of Earth Mother, but that whole twisted marriage did not exactly warm up his image.  Now, after reading this headline, you might associate the whole of the family with childcare that is just not-good-enough.
In May, Billy Bob's estranged daughter, Amanda Brumfield, was convicted of aggravated manslaughter after her best friend's child died from a blow to the head while Brumfield was babysitting in 2008.  Today, Brumfeld, a mother of three herself, was sentenced with 20 years in prison and a $10,000 fine.
Brumfield claimed the baby, Olivia, a child with a penchant for playing with doorjambs and mandarin oranges, according to her mother, Heather Murphy, simply fell from a play pin and hit her head.  The prosecution begged to differ: Olivia suffered a three-and-a-half inch fracture in her skull and bleeding and swelling in her brain.  That was either one big ass playpen or else this Brumfield is one negligent mother.
The scene in the courtroom was just packed with pathos.  I dare you not to tear up to this detail: Heather Murphy told the courtroom that on what would have been her 4th birthday, Olivia's sister "wanted to tie an ice cream cone to a balloon so Liv would have something to snack on in heaven." Send this Brumfield to prison already!
The judge was obviously not having any of Brumfield testimony that she was a caring mother; that image of a balloon ice cream cone floating to heaven sealed her fate.  The sentence did seem a bit harsh, though; even Murphy admitted 20 years was "more than [she] expected."