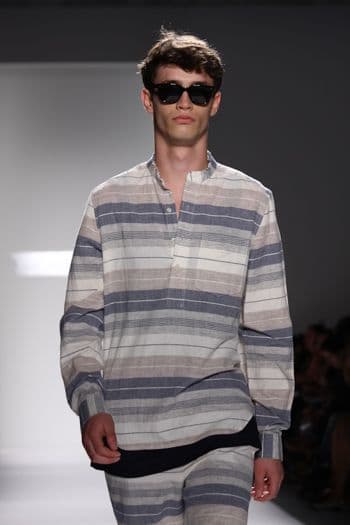 With the Ramones "Rockaway Beach" in the background male and female models strutted down the runway like they were well going to the beach. Stripes, sheers and bright color day dresses along with youthful rompers and sexy midriff baring tops paired with shorts and long skirts full of movement evoked images of tropical island vacations.
A long, flowy ivory lace dress with a neutral trench was less risky and edgy than the rest of the ensembles but nevertheless was a favorite. Pop color combinations of light blues, mustards and coral short suits for the men were interesting and festive yet still be managed to be masculine. The retro look of these blazer and shorts were very chic yet seemed effortless.The highlight of the show was a psychedelic flowing flowery dress sort of a Laura Ashley on crack print. Were the this fashion duo really excels for both sexes is the use of their custom prints…
Article continues onto page 3.