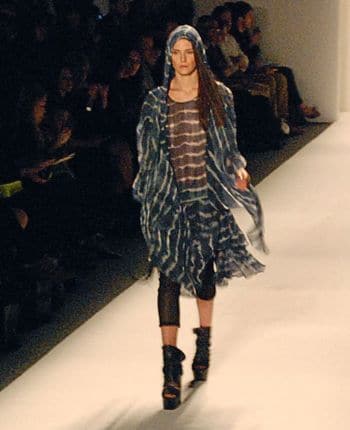 Nicholas K was the first designer to kick off IMG Mercedes Benz NY Fashion week yesterday morning, which is exactly what the line did with aplomb. With layered sheeths/chiffon tunic fabric, chunky platform shoes/heels (I was certainly wondering how one would navigate them outside of the catwalk), diagonal cuts, flowing capes and the resilient use of Nicholas K's signature earthy tones the collection evoked a cohesive outlook on life: sleek, comfortable and damn good looking.
The use of layered knickerbocker pants over knickerbocker tights for the gents certainly caught this author's attention as did the flowing capes which morphed from the head down to the entire body of the outfit, cut and interspersed with other fabrics which at times revealed more cloth, imagination or just shear body. The motif of wrist bands with flowing tassels worked in harmony with the elongated silhouettes that flowed effortlessly as each model languidly took to the stage.
All in all a well conceived collection, a couple of overdone pieces- but this is Nicholas K, and for a line that likes to take risks and keep those amongst us looking young and beautiful it's a line that will once again be worth reaching out to. Applause to the team.
Images continue next page.