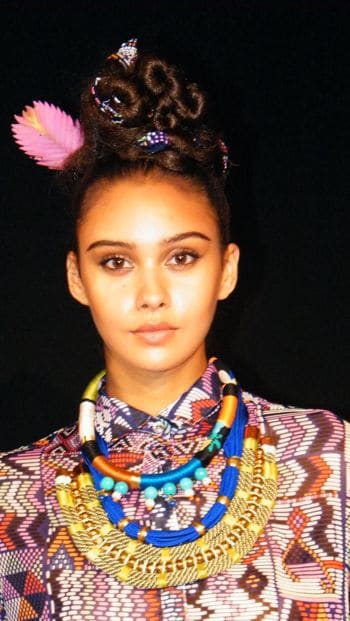 The line for Mara Hoffman's collection snakes around the corner, spilling down the length of the corridor at the tents. Guests glisten in the humidity, fanning themselves with the look list from the previous show, looking pale from lack of sleep due the previous evening's Fashion Night Out debauchery. Notes of lively Mexican guitar music drift out of the room. The doors open, and we enter to a mind blowing brightly colored and exotically patterned Spring/Summer 2012 collection by Mara Hoffman.
The live music is a perfect fit as Mara Hoffman draws her inspiration from the personal style of Mexican women such as famed artist Frida Kahlo. Her line pays homage to these "Mexican Mamas," as Hoffman endearingly calls them.
The collection features novel silhouettes and fabrics. All the prints are custom designed in-house and feature many new looks, including "Veracuz" or abstract tribal with pops of neon color, "Woodcut" or white, brown and blue with woodcut designs, "Huipil" or geometric dots with bright orange and purple colorways, "Ticker Stripe Embroidery", "Weave" or black and white woven print and "Techno Animals", bright and colorful tiny animals. What stood out the most to me though was the "Serape" group, or the group of striped knits. The structured-yet-feminine look brought a whole new twist to stripes, a tribal twist. In addition to prints, the collection features stark solid color pieces, red, blue and orange hues.
The jumpsuits caught my eye. Both the long pants and short romper styles were fantastically crafted,  making the jumpsuit a flattering and entirely wearable look. Tunics, tea-length column dresses and a fun, flirty ruffle peasant dress graced the collection.
Details such as seed beading, embroidery and weaving add the line. Light, sheer fabrics give the line a sensual aura, especially in the long sheer skirts and sheer chiffon pants. Paired with drapy blouses, this look oozes carefree, casual summer sophistication.
The line transcends boundaries and brings the fun flavor of Hoffman's "Mexican Mamas" to a beautiful Spring/Summer 2012 collection that is sure to turn heads.