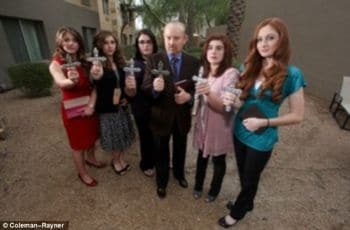 I do not know if you know this, but there is a worldwide shortage of exorcists at the moment, and the demand could not be higher.  Luckily, Evangelist Reverend Bob Larson of Spiritual Freedom Churches International that seems to train attractive teenage girls, mostly, is now able to keep up with demand.  The Daily Mail has written a lengthy profile on Rev. Larson's school, where he describes his efforts as "more of an exorcist franchise" than anything.
To train those called to perform exorcisms, Rev. Larson uses motel rooms with ominously closed blinds to educate his pupils on the basics of possession.  The Daily Mail article is priceless in its description: The words 'Satan,' 'Beelzebub', and 'Lucifer' hang in the electrically conditioned air, while the temperature is set to 'spine-chilling'.  Personally, I cannot think of a more chilling moniker than 'Beelzebub.'
Among the pupils profiled are 16-year-old Arizona homeschooler Tess and Savannah.  According to the girls, reading a few rudimentary 'curses' are enough to call the demon out: Tess practices reading from the list of curses. 'Death,' she says, ominously, raising an eyebrow to the room. 'Cancer.' She pauses, dramatically. 'Murder.'
It is normally after she says 'murder', that all hell breaks loose, she says. 'Many belch on hearing the words, or start weeping,' she whispers.  (This is only a demonstration; she doesn't normally whisper to her clients).
Rev. Larson has taken his 100+ army of disciples all around the world to great effect: In the last month Rev Larson and his team rid a wife of an evil curse, after she was cursed by a Nigerian witchdoctor over the Internet by 'dark demons which would attack her in sleep'.  Forget computer viruses!  The Internet harbors demons!
Now don't you dare think of this as anything like Harry Potter: 'I think Harry Potter and Twilight are instigators of evil,' Savannah says. 'They nullify morality and just serve to hook people in with evil."  And before you suspect something fishy about this 'franchise,' don't go thinking that this Rev. Larson is making a quick buck hanging around with impressionable young girls.  He does not charge monetarily for exorcisms, he only requires appointment be made in advance in exchange for an 'offering', because as you know, traveling to 'deepest Africa' can get expensive.
I'd say Rev. Larson is an admirable chap providing a very important service.  Only criticism: that name might need a little more oomph.  Maybe a play on Ghostbusters something like "Girls Gone Demonic: Our Busts Will Bust Your Ghosts!'.  Oh, don't ask me.  I'm not the franchise-expert like Rev. Larson here.