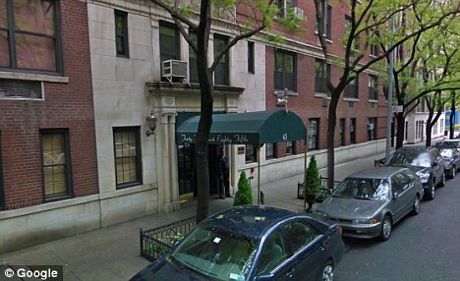 NYC- July 4, 2011. Park Avenue, and its parallel avenues of Madison and Fifth avenue along the 60's, and all the way up to the early 90's here in NYC is hardly a territory where one can expect to find duplicitous killing sprees or blood stained hallways. That may be something that one may find up the road, going towards Harlem, or somewhere in the 'depraved' region of east NY, but that all changed late Saturday afternoon when one family dispute led to one woman being brutally murdered and her son incarcerated. Beyond the murder what's now at stake is what actually goes on this part of town and whether the revered pedicured enclave is really what it purports to be?
dailymail.co.uk: A son is accused of viciously stabbing his elderly mother to death at her home after they got into an argument over the weekend.
Jonathan Schwartz, 41, was arrested for the brutal murder in the Upper East Side area of New York after the body of his mother, philanthropist Barbara Schwartz, 67, was found.
Schwartz allegedly attacked his mother in the bedroom and then called police.
What makes this crime particularly beguiling is the fact that it happened within the well established parameters of the Schwartz enclave, a name that apparently carries weight in the philanthropic circles here in NYC, the implied signature of good grace and society.To even suggest the idea of murderers or crazed individuals hardly registers. What may from time to time pass for gossip, is that so and so is eccentric, not as rich as they used to be, having an affair with the flower lady down the road, that their child was once again got expelled from such and such prep school  or that dear old Larry from the conservancy seems to be on something a bit stronger than the prescription pills that one 'normally' uses to  get through the day. Not exactly sin free, but hardly a pariah state either.
After all the really awful things never really happen round here. Not on this block. Until Saturday afternoon that is…
But in order to fully comprehend the degree of discord this crime has caused one only need read the NY Post's take, who with their page 6 ennui make it no secret that their heart strings belong to the Park ave set.
NY Post: A deranged Upper East Side man called 911 twice after allegedly stabbing his philanthropist mom to death, first to admit the crime, then to retract the confession, police sources said yesterday.
"I killed my mother," Jonathan Schwartz, 41, told an emergency operator during his first call after allegedly carving up his 67-year-old mother, Barbara, with a kitchen knife in their East 85th Street apartment Saturday afternoon, the sources said.
Which is to say the Post certainly doesn't approve of what it would most certainly call sordid and defamatory behavior. But on some level it is willing to reason it away on the basis the crime was perpetrated by a son who is 'deranged' and suffering psychologically, as opposed to an ordinary everyday player in the world of high stakes.
The son — who suffers from schizophrenia and may not have been on his meds — then hung up, only to call back later to claim that his mother actually had committed suicide, the sources said.
All which acts on some level to distance the community from this impossible behavior, that in fact it was all the result of a man not on his meds, a man most importantly who hardly registered on their level despite who his family was. After all, prescription pills aside, who in this part of town would ever stoop to murder?
dailymail.co.uk: Relatives say Schwartz was unemployed and often went to his mother for handouts.
Handouts? Interesting, that the dailymail chooses to use  this type of language to denigrate the assailant. After all, what passes for an allowance down the street has now become  a pejorative 'handout' at this blood hewn scene. That said, one wonder if this was the last 'handout' that broke the camel's back? After all how many parents are in the position of being the deposit of last resort for their 41 year old son? Especially if that son can be argued to have a reputation for abusing their family's wealth? (but if the son is supposedly mentally sick are there too many real options?) But then again isn't receiving a trust fund, handouts, easy introductions to the best jobs, schools and a bountiful access to vast sums of money par for the course in this gilded community? Or is that just an illusion?
A relative, who asked not to be named, told the New York Daily News that he was spoiled by his mother, who inherited her wealth from her late father Norman Weiden.
'I just can't believe it,' said the relative. 'She loved him, because he's her son – but he gave her some problems. She was a very gentle person and a wonderful mother.'
'She did not have an easy time with her children. Jonathan wasn't working. He was spoiled.'
Spoiled? But in the current economic downturn is there really a chance to continue spoiling one's offspring (assuming for one moment that even the gilded set have felt the sting of a bad economy)? It may have been an