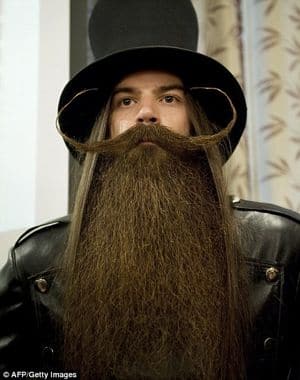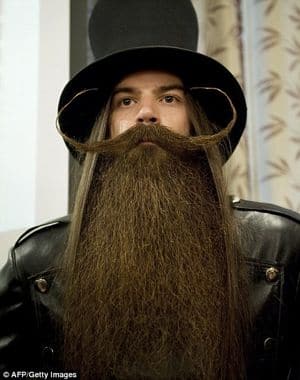 Few may know that facial hair is subject to international competition, but the youngest winner for the category of 'full beard with styled moustache', Burke Kenny, a title he first won 4 years ago is quite happy to keep it that way, now that he has won it again in Trondheim, Norway.
Seattle Times: "I don't take it extremely seriously," said Kenny, who often dons a top hat and vintage jacket for competitions. "I like to be an honorable gentleman and present myself honorably."
Of course, that's his approach. What about his competitors?
"They're out to get me, for sure," Kenny said. "A lot of people take it really seriously. There's a lot of drama and a lot of big egos."
Kenny, a cook in Olympia, Washington (he braids his beard and rolls it to keep it out the food), was unfortunately snubbed from the upcoming IFC reality show "Whisker Wars," which follows Beard Team USA.
The international competition featured about 20 categories. The Americans brought home six gold medals, and four of those were grown by men from Washington state, Kenny said. Besides Kenny, they were Bruce Roe of Bremerton, who won for Hungarian mustache; Craig "Rooty" Lundvall of the Everett area, who won for full beard natural; and Keith "Ghandi Jones" Haubrich of Seattle, who won the freestyle mustache category.
With so few options for male self-expression, I hope that Americans can rightfully applaud our new national heroes for being so creative with what comes naturally to them, though requires so much cultivation– and let's not forget dedication.  These men, with their impressive mounds of bouffant beards and sculpted wisps of coiffured 'staches, not only adorn what is innate but come to know the price of pulchritude.
Take Burke Kenny's word for it: with people so often staring at his chest,  "I have to say, 'I'm up here," ' he said, pointing to his face. "Just like a girl."
Not a bad attitude for a business that is ostensibly a very cut throat one, never mind the fact the word cut is probably a beguiling oxymoron in this instance.