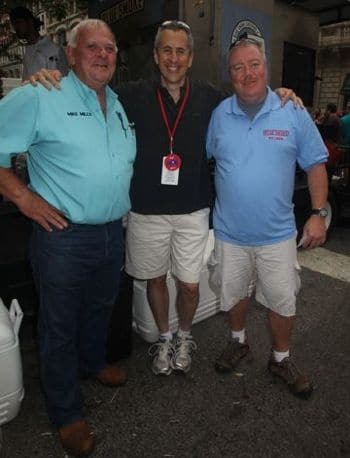 As we walked down Madison Avenue toward the ninth annual Big Apple Barbecue Block Party, the air was filled with the mouthwatering  aroma of slow roasting meats. Our first stop was the Blue Smoke booth where pit master and executive chef Kenny Callaghan and Restauranteur Extraordinare Danny Meyer held down the culinary fort.
Callaghan, a no nonsense classically trained chef, with little BBQ experience, was tasked by Meyer to research the best of  various regional BBQ styles around America  and incorporate them into the future menu of Blue Smoke. After three months of intensive research and meeting  BBQ luminary Mike Mills in southern Illinois, the restaurant started to take shape.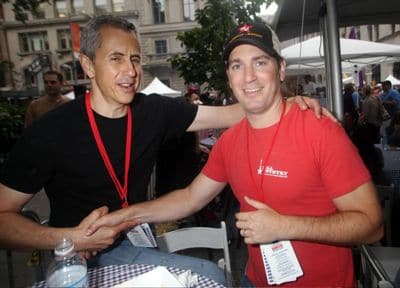 When asked what a nice Jewish boy from St. Louis was doing in the barbecue business, the affable Mr. Meyer quipped " that's why we're serving beef ribs". The ribs were impressive as was the bean salad. The next stop on our pilgrimage was to meet pit master, BBQ guru and author Mike Mills. He halls from a small town in southern Illinois called Murphysboro where here learned the art from his daddy Leon. In his wonderful book "Peace Love and Barbecue" he succinctly states that "Barbecue = food+ family + love. His magnificent baby back ribs, bean salad and savory cheesecake  reinforce this simple philosophy with delicious eloquence.