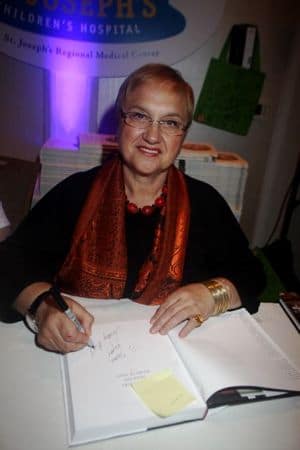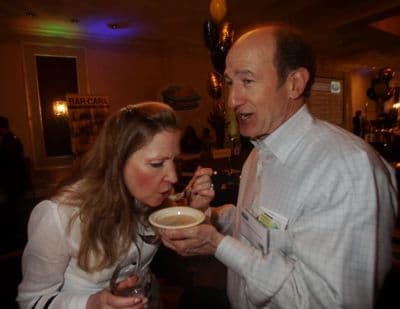 It was hard not to run into a celebrity chef at St. Joseph's Children's Hospital fourth annual Cooking for Kids fete at the Meadowlands Sheraton.
The guest of honor was Chef Lidia Bastanich who chatted amiably and signed her most recent cookbook. There were more than fifty generous restaurants and beverage providers represented. Here are some of the highlights.
Chef Melody from The Main Event in Morristown and Kids' Green Kitchen brought her famous 12-layer salad. Served from a huge glass bowl, it was a multi-level spectacle of baby spinach, baby carrots, celery, black beans, julienned red peppers, garbanzos, edamame, French stringbeans (haricot), red cabbage, grape tomato halves, shredded baby beets, and asparagus.
We knew we were a about to be delighted when we spied truffles being shaved into bounteous bowls of mushroom soup at the stand of chef/owners Ariane and Michael Duarte Ariane of Culinariane in Montclair. This was probably the best mushroom soup I have ever tasted. For a taste of the exotic, Heidi Birson of Montclair's Lalezar Turkish restaurant served an assortment of cold appetizers, highlighted by a great smoky, garlicky baba ghanoush, the peppery walnut spread called ezme, and
the seldom-seen kisir (wheat berries, chopped tomato, scallions, mint, and pomegranate syrup).
Organic Vintages, represented by Mike Brennan, showed wines from Washington's first organic vineyards, Badger Mountain in the Columbia Valley. A Cabernet Sauvignon (our favorite), Merlot, and Riesling from the '08 vintage, plus an '09 Chardonnay were poured with a smile and got smiles in return.
Those who thought they didn't like German wines were pleasantly surprised by the range of value-priced refreshers from Erben wines poured — and explained — by properly-proud importer Ryan Radecki. Our favorites were the spritely Kabinett, hinting of wildflowers and Granny Smiths, and the fuller Spatlese made from late-harvested grapes. Erben's Pinot Noir in an off-dry style would better suit picnic fare and burgers.
For dessert we enjoyed multiple cheesecakes by Marc, rich chocolate creations by Chocolate Etc., and yummy cakes and cookies from Carlo's and Calandra's Bakeries. Guests ate, drank, and danced into the night for a very good cause.