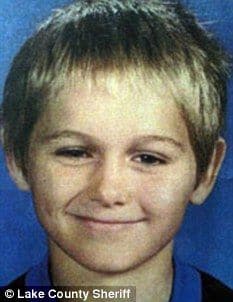 The horrifying moment when she found his body.
Kimberly Kubina and Riley Choate are currently been held in custody, charged for the murder of their 13 year old son, Christian Choate, pursuant to their daughter, Christina Choate being unable to keep a secret that she had been forced to hold for the last 2 years.
daillymail.co.uk: The sister of a 13-year-old boy who died and was secretly buried after allegedly spending up to two years locked in a dog cage has told of the horrifying moment she found his body.
Christina Choate, now 17, said she found her brother dead, lying curled up in a cage inside their mobile home in the Black Oak district of Gary, Indiana in 2009.
She claimed how her father then made her help him secretly bury the child under concrete near their home before moving the family to Kentucky.
Unable to take the burden of the severity of the crime, Christina finally told one of her relatives who then relayed the information to authorities who were then forced to dig up the young boy's body which had been buried under mounds of limestone and concrete. An autopsy found the boy had experienced blunt force trauma, internal bleeding and a skull fracture. Injuries certainly not for the faint of heart.
And why was the boy locked away in the first place?
Christina said her father kept Christian locked up to stop him running away. Yesterday Christina claimed how her brother was locked in a dog cage inside the family's home, allowed out only to use the bathroom and to eat.
She also recounted how her younger brother endured regular and brutal beatings from their father.
She then described the day in April of 2009 that she found her brother dead.
The fact he was curled up in a cage did not surprise her – she was used to that as he had been held there under lock and key for close to two years, apparently without anyone asking searching questions about his whereabouts, she claimed.
Without anyone asking questions to the boys whereabouts? Does that make sense? Was the child attending school? Didn't his teachers notice, wonder? What about his friends or those of the neighbors?
And how was the boy's body disposed?
When arrested last week, Choate told police he drove his son's body across the street and buried him under a two feet layer of lime, dirt and concrete. He placed a Bible and a cross with the body.
Choate, his ex-wife, his daughter and her half siblings immediately moved to Kentucky.
Then moved to Kentucky? Did moving to Kentucky alleviate the guilt and fear of the Choate family? Was there even any remorse? And can we safely assume hadn't Christina finally caved in and told a member of her outside family, that Christian Coate's whereabouts would still be unknown to this day? Have thirteen year old boys become that dispensable? What exactly does this say about our society?
And how was Christina forced to keep her secret?
Christina said she was not allowed to go to school or talk on the telephone.
But three weeks ago her father returned to north west Indiana and Christina decided to tell a family member what happened.
Did her parents imagine they too could keep her secluded from society indefinitely? Did they eventually plan to move her into a dog cage as well?
The family is now preparing to give the son a proper burial, but one doubts that this family will ever be able to bury this event. Such it seems is the life of one family in complete disarray.