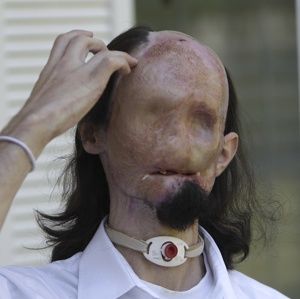 Depending on your ability to stomach Dallas Wiens face immediately pursuant to a freak accident that left him rendered, one should hold degrees of marvel that modern medicine can now redeem a man's face where it was once completely obliterated.
nypost: BOSTON — A construction worker badly disfigured in a power line accident two years ago has received the United States' first full face transplant at a Boston hospital.
More than 30 doctors, nurses and other staff at Brigham and Women's Hospital led by plastic surgeon Dr. Bohdan Pomahac performed the 15-hour operation last week on 25-year-old Dallas Wiens. He was listed in good condition at the hospital on Monday.
The injury left Dallas Wiens blind, without a sense of smell as well without lips, a nose or eyebrows, and the operation would not have been possible without a donor (who has been unnamed).
In an Associated Press story and a YouTube video last fall, Wiens spoke poignantly about why he wanted a transplant and how he wanted to smile again and feel kisses from his 3-year-old daughter. Face transplants give horribly disfigured people hope of a new option "rather than looking in the mirror and hating what they see," he said.
Isn't it remarkable to think when your life is over, its whole meaning decimated to be able to suddenly feel the lips of your daughter against your face and the love of humanity on your breath?