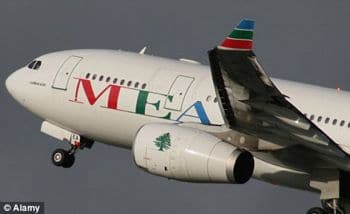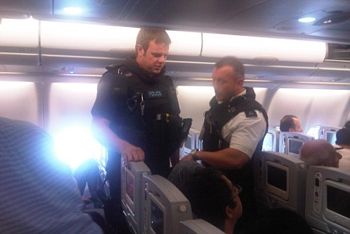 Passengers tackle pilot.
Have you ever found yourself getting a little testy while waiting for your delayed flight to get off the ground? If so then unfasten your seatbelt and charge this way…
dailymail.co.uk: Passengers 'mutinied' on a flight from Heathrow after a thunderstorm left them waiting for take-off for almost seven hours.
Witnesses said the ensuing fracas resembled a scene from Lord Of The Flies.
Trouble erupted after a Beirut-bound Middle East Airlines plane, with 230 passengers aboard, had to abort a 5pm take-off on Thursday, having already missed its original 1pm departure slot.
Of course tensions weren't soothed either when the plane wasn't given another time slot until 7.30pm later that evening. Which inevitably led to disgruntled passengers doing the following:
"…arguing with the crew, raiding the galleys and 'pushing and shoving', name-calling and engaging in 'fisticuffs', the pilot being tackled, and passengers stealing food from the food trays."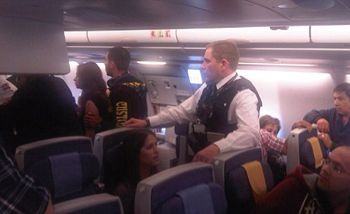 Which is to say who needs action filled movies to pass the time when you can have action packed sequences one seat over or if you were particularly spirited in your own seat.
Retorted one passenger:
The atmosphere was very tense and a middle-aged man told the crew member he was an idiot.
'And that was when the pushing and shoving began. The captain came out once and I told him he had failed in his duty, to which he replied I should fly the plane.'
Of course if it only it was that simple we'd all be up there in the cockpit offering our two cents worth.
And how did this all go down with other passengers you wonder?
A Lebanese woman passenger was said to have suffered 'heart palpitations', and a male passenger needed to be given oxygen.
Heart palpations. Hmm, and how did the airline itself react to the 'internal turbulence?'
Up to eight police officers boarded the plane at 5.50pm but there were no arrests after the fracas and flight ME 202 eventually took off for Lebanon, apparently with all passengers still onboard.
But eventually the plane did make its way off the tarmac and continued to its final destination in Beirut.
With up to 50 departures and 29 arrivals called off due to high winds at Heathrow, one cabin crew member reflected:
"…male cabin crew member was heard over the intercom system telling passengers: 'If any of our crew have been rude to you, we apologise for that. We need passengers to hold their horses and calm down.'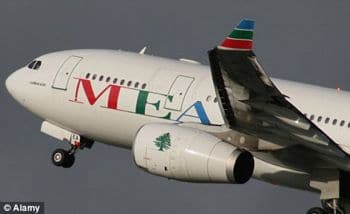 One day deep in the future authorities will invent a way for future flyers to overstep the humiliation, degradation and inconveniences of flying, but until then one is encouraged to understand who is also at times often being humiliated, discouraged and mortified are the very persons whose duty it has been put to safely negotiate a sensitive bunch who they intuitively understand if it wasn't for the fact that the plane might fall out of the sky their head might have already been had a hundreds times over.
Isn't it a thrill when they offer the most exciting programs on the planes to watch and sometimes if you're lucky, to participate in?