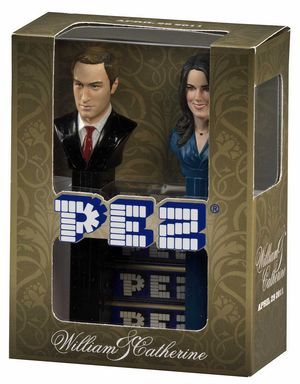 Just in case you thought you had enough sweet tooth dispensers in the cupboard, here comes your next must have dispenser- the William and Kate Pez dispenser on auction right now.
latimesblogs: ROYAL PEZ DISPENSERS!!!! Commemorative William and Kate Pez dispensers are a thing that EXISTS IN THE UNIVERSE!!!! Kate and William's heads are on a stick!!
Though the bases are machine-made, the tops were sculpted by hand so they'd be difficult to reproduce, the Pez people told ABC News
Kids- are you salivating? I know I am…
The auction on EBay's UK site of the one of a kind started Thursday evening, British Standard Time, and ends April 17. Proceeds will benefit the Starlight Children's Foundation.
Shouldn't you make your friends jealous this spring when you end up casually drawing out the one and only William and Kate Pez dispenser when it comes time for trinkets and dessert?