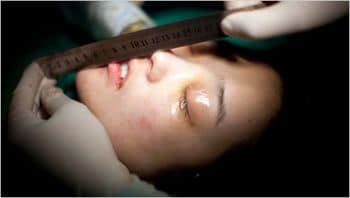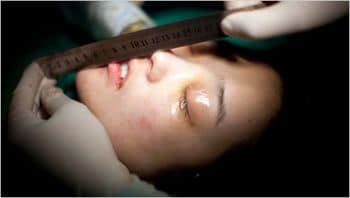 Have money, have new face. The new paradigm shift in China.
Not happy with your appearance? Then if you have some cash to burn a visit to the plastic surgeon can now set you right…
nyt: …the young woman who called herself Devil embodied an image of beauty widely admired in China: large, luminous eyes, a delicate nose and softly sculpted cheekbones.
But her jaw line? Too square for her liking. So the 22-year-old television reporter recently traveled from a coastal province to a private hospital in downtown Beijing to have it reshaped — for about $6,000. Her boyfriend, a 29-year-old businessman wearing designer eyeglasses, picked up the bill.
Does this remind you of a familiar story? It should- it seems to be the journey that increasingly more and more upwardly Chinese citizens are undertaking as it was de rigeur for upwardly Americans in the 90's.
The breathtaking pace of transformation for upwardly mobile Chinese — from bicycles to cars, village to city, housebound holidays to ski vacations — now extends to faces. In just a decade, cosmetic and plastic surgery has become the fourth most popular way to spend discretionary income in China, according to Ma Xiaowei, China's vice health minister. Only houses, cars and travel rank higher, he said.
More money, the more time we obsess about luxury or at least appropriating all things beautiful, perfect and of course luxurious- assuming of course there's a cash cow in the cupboard to pick up the tab.
Postulates Ma Xiaowei, China's vice health minister:
"We must recognize that plastic and cosmetic surgery has now become a common service, aimed at the masses."
And while we're on that thought, why not begin exporting 'do it yourself plastic surgery kits' so we can all get in the act, that way there wont be anyone left behind feeling stymied that they didn't get a dose of a new face…
Face-lifts and wrinkle-removal treatments are in vogue, just as in the West. But at Evercare, which runs a chain of cosmetic-surgery hospitals in China, two-fifths of patients are in their 20s, said Li Bin, the general manager and one of the founders.
Two fifths? Is there really such a desire amongst the youth there to appropriate perceived beauty doctrines? And if so – why?
Nationally, the most requested surgeries have nothing to do with age: The No. 1 operation is designed to make eyes appear larger by adding a crease in the eyelid, forming what is called a double eyelid, said Zhao Zhenmin, secretary general of the government-run Chinese Association of Plastics and Aesthetics.
The second most popular operation raises the bridge of the nose to make it more prominent — the opposite of the typical nose job in the West. Third is the reshaping of the jaw to make it narrower and longer, he said.
The youthful patients include job applicants hoping to enhance their prospects in the work force, teenagers who received cosmetic surgery as a high school graduation present and even middle school students, most of whom want eye jobs, surgeons say.
Teenagers who receive cosmetic surgery as a graduation present? Not a new baseball bat, a trip to the valley? But then again, times are more fluid and one is required to look the part, or at least play the part we guess…
And then you have the scenario of one 23 year old who made a snap decision to spend their life savings on, yes you guessed it- a new face:
A 23-year-old bank employee from Harbin in northeastern China said she deliberated for a week before she underwent a $15,000 operation to reshape her cheekbones and jaw line. Her other thought, she said, had been to open a Starbucks with her savings.
"It was a snap decision," she said, seated on her hospital bed, her face swathed in bandages. "I was curious to see what I would look like."
Her family had no idea. Asked how she would explain her new face to them, she paused before replying, "I am right now trying to figure that out."
Aren't you glad that you're not the only one making irrational choices in the world? Or maybe it's this author who's being irrational?