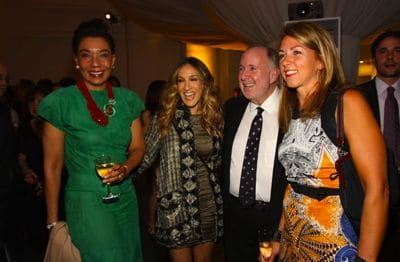 This past Wednesday night, guests, luminaries, artists, patron of the arts (the evening's chair)- Stephanie Ingrassia and a couple of high visible celebs (honorary chairs) Sarah Jessica Parker and Liv Tyler came along to pay tribute to the vision of notable Brooklyn artists- Fred Tomaselli, Lorna Simpson, and Fred Wilson, as well as retiring Brooklyn Museum Chair, Norman M. Feinberg at Brooklyn Museum's 'Brooklyn Artist's Ball.'
From the beginning it was a rocking affair, with a stream of some of the city's taste makers languidly regarding the architecturally white linen pleated column walls and of course each other.
Sarah Jessica Parker even came and paid a visit before just as quickly as she arrived leaving (odd considering she was the evening's honorary chair), nevertheless screen siren Liv Tyler did grace us with her presence and allowed a few of us journalist/blogger types to ask her a few questions. I too would have asked her questions, I assure you- but I was too busy looking for another martini whatever and by the time I returned I could only hear the end tail answers of how Liv was a devoted Brooklynite, loved her Brooklyn artists, although she admitted she had yet to start collecting them (oh well)  and that she took as much opportunity to bring her son out to the museum. Thankfully her publicist stopped me, cause I was about to ask Liv what her favorite drink was or whether she preferred her martinis dry or on the rocks?