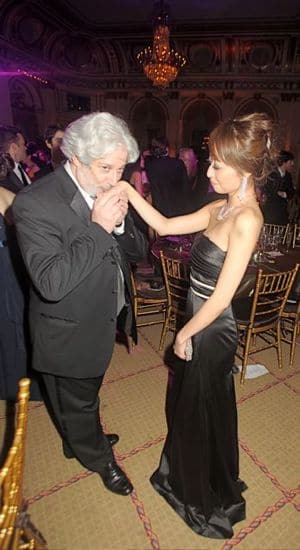 Monday night's Ballet Hispanico Spring Gala saw Kate Lear, a Ballet Hispanico board member receive the event's Civic Inspiration Award as presented by her father, honorary chair, Norman Lear.
Founded 40 years ago, Ballet Hispanico performs across the country and conducts workshops in NY public schools.
Receiving the Creative Inspiration Award, Sonia Manzano noted how much the landscape has changed for Latinos, and how much it does for children.
Besides the awards, there was plenty of latin dancing to be had, surely a wonderful way to expire some of the calories after an amazing dinner.
Noted guests included: Tina Ramirez- founder of Ballet Hispanico, Richard Reagan, Paul Arnhold, Jody Arnhold (Dinner chair) Eduardo Vilaro (Ballet Hispanico's artistic director), Katie Couric (anchor of CBS evening news) , author Daphne Jovanovic, Dr Mehmet OZ , Kate Lear, John and Christy Mack, Mario Ismael Espinoza (dancer with Ballet Hispanico), Patricia Pacheco, Judy Dimon, Sara Neumann, and Alejandra De La Cruz.
The event's honorary chair for the evening was Norman Lear.  Event Chairs – Katie Couric, Kenneth Langone and Sir Howard Stringer.  Dinner Chairs are Jody and John Arnhold, Michelle Caruso-Cabrera, Ronnie Davis, Jonathan LaPook, Lyn Lear, David Perez and Milena Alberti.  Event vice chairs are Lois & Roland Betts, Nora Ephron & Nick Pileggi, Edward & Susan Forst, John & Christy Mack, Mehmet & Lisa Oz, Maritza & Richard Williamson.  Chair of the Past Honorees Committee is Vin Cipolla.