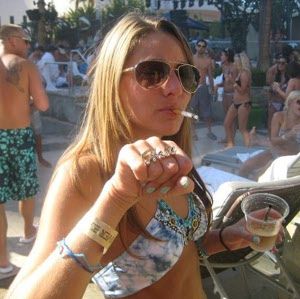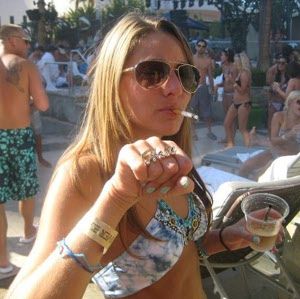 Isn't it time you put on a bikini and beat that 'ho' trying to steal your ex boyfriend?
Just in case you've been vaccilating for the latest grime bucket reality trash news, we found it here for you. But before you read it, we advise you go out take a long dip in the pool (yes we know it's snowing, but no one will mind seeing you turn up in a bikini with a clenched fist as long as you explain it's for reality TV), smother some deep hazenut instant tanning lotion on your derrier and then hurry back inside so you too can learn how to make the reality bikini beat a chick trash grade. 
NY Post : A sexy Brooklyn reality-star wannabe is suing another woman she says beat her up in a poolside catfight worthy of "Jersey Shore."
Unfortunately for Kristin DiPierro, 26, the cameras weren't rolling at the Hard Rock Hotel and Casino last September, when, according to court documents, Lauren Goldfarb, of Point Pleasant Beach, NJ, "viciously, maliciously, willfully and wantonly" pounded on the Marine Park stunner.
Hmm, are you whetting your lips? This sounds like outright glamour. Please don't hog the hazelnut cooking oil gals. Ok let's read on…
The fracas began as DiPierro, who was celebrating her birthday, started chatting up a guy who turned out to be Goldfarb's ex-boyfriend, DiPierro's lawyer, Joseph Farella, told The Post.
Uh, oh, I smell trouble…
A furious, bikini-clad Goldfarb stormed over to DiPierro, mocked her choice of bathing suit, and then tried to rip her top off, Farella said.
DiPierro, a graphic designer who hopes to launch a swimwear line, summoned security.
The guards admonished Goldfarb and her friends and told them to move to the other side of the pool, DiPierro says.
Now gals, please calm down. He's just one man. We know an ex boyfriend, which makes him more valuable, but still…
Thirty minutes later, Goldfarb returned and started swinging, pounding her on the face and nose with a hard plastic cup, Farella alleged.
Oh boy, gal couldn't help it. Didn't we tell you gals just to keep applying that hazelnut oil lotion. Geesh! So what were the damages?
DiPierro suffered bruises and lacerations to the face that needed stitches and will eventually require plastic surgery, her lawyer said. She also suffered a broken nose and deviated septum.
Plastic surgery, deviated septum. Yep, it sounds like another reality show outing…But of course like all good bikini brawls, no one wants to step up and directly take credit.
Goldfarb's mother, Lisa Mairowitz, insisted her daughter was "not directly involved" in the Sept. 26, 2010, "bar brawl that involved about 20 girls."
Which makes us wonder, if you're going to have a lawsuit, who else can you sue the bejesus out of?
DiPierro also claims that the hotel failed to provide proper security, according to the suit filed earlier this month in Brooklyn Supreme Court.
The hotel did not return a call seeking comment.
And just in case you're wondering where you've heard of the DiPierro family name before, perhaps this will jog your memory….
DiPierro's sister Colette made headlines last year when she was sued in Staten Island for breaking off her engagement and refusing to return a $17,500 ring. That suit is still pending.
The sisters, who have started a swimwear and apparel line, have profiles on the Reality Wanted Web site and have applied to be cast in a show "along the lines of the Kardashians or 'Pretty Wild,' " according to the site.
When summer eventually rolls along you too will think about stealing that ex boyfriend from your bikini pool clad enterouge, but if you do, we just advise you to be ready to roll up and down the concrete pool while the reality camera man happily shoots away. 
Don't you wish you were a reality bikini brawl babe too?
The bad behavior of young women.
Best Frenemies for Life: Modern Women and the Difficulty of Making Friends
Why I don't want to grow up and become a reality star.