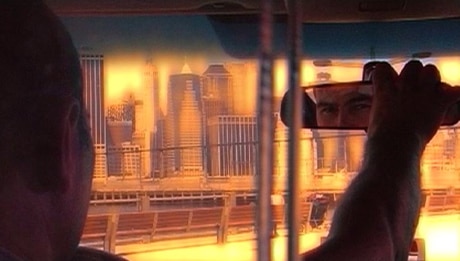 Taxicab drivers are, according to the 2002 US Department of Labor, 80 times more likely to be robbed and 60 times more likely to be killed than other 12-hour shift laborers. While most do become drivers for financial gain, their safety is at risk. The emissaries, lifeblood of the urbane, representations of freedom, speed and individuality–taxicabs keep New York City in motion. We stiff them, yell if they go the wrong way, and pretty much use then dispose of them, as they do us.
Do we ever stop to consider who these people are? Tourists do, they ask questions—wish them luck, but the locals do not. We take them, resentfully tip, and suspiciously monitor the meter. We hear about hates crimes, and apologize for our ignorance, but do we ever hear 'happy' stories when relating to the foreigners responsible for our getting from one place to another?
These are the questions confronted by artist Amir Baradaran, in his latest work, titled "Transient." Staged during the recent 2011 NY fashion week Spring/Summer collections, (Sept 9-17, 2010) Baradaran managed to insert a video, with 14 different footages, capturing drivers' gazes for forty seconds, into 6,300 cabs– half of the entire city's fleet of 13,000. During the time the video footage played, it was estimated that Baradaran would have affected 1.5 million people. Interrupting the normal programming, a series of disturbing montages drew viewers into the life, air and gaze of an Asian, Indian, and Russian or Black transporter. They were featured around Manhattan, 12pm-12am- everyday.
Working a quarter of the day just to pay off what they owe on the car, taxi drivers are indeed, urban slaves. Significantly underpaid in New York, compared with other metropolitan cities, (Chicago, Boston, Montreal), most drivers don't speak English, and a third admit to just having learned it within 3 years of driving. (48% don't speak English in their racially similar resident neighborhoods.) An ethnically diverse hardworking immigrant class, which comes from over 84 countries, 4 in 10 are from the Indian subcontinent, (India, Pakistan and Bangladesh); the remainder comes from Africa, the Middle East, Caribbean and former USSR republics.