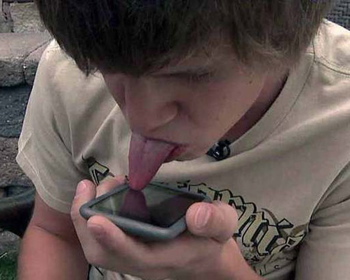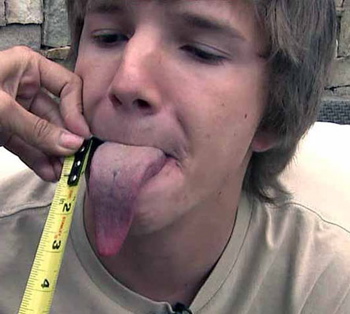 Is your tongue longer than Nicks? Nick thinks not.
It's time to meet Nick Afanasiev. Why? because this little kid has the longest tongue in America and he wants to see if he could stick it at you if you stand still 65 miles away.
Fox5 San Diego: Afanasiev's tongue measures 3.5 inch long, from the middle of his closed top lip to the tip of his tongue. It's only 0.36 inches shorter than that of Stephen Taylor, the world record holder from the United Kingdom. Afanasiev can easily stretch his tongue to touch his lower eyelid, and he can even write text messages with the tip of his tongue.

Actually we're betting if Nick tries hard enough he can scrub clean the top window panes of the Empire State building from his bedroom in San Diego. But the question remains, how did Nick get such a long tongue, and are there any 'magic' tongue exercises you should be doing from the comfort of your living room to match Nick's?

Because of his long tongue, he started making guest appearances at various television shows, including NBC's "Tonight Show with Jay Leno" and CW's "The Tyra Banks Show." He soon launched his acting career, appearing in popular shows like "I, Carly" and other Hollywood and indie films.

Afanasiev said he hopes his tongue will help him gain more exposure on television and further his acting career.

Acting career? Me and the interns think Nick might make a fruitful career as a fluffer on porn sets before graduating to his own porn star status for obvious reasons. Mmmh, shouldn't you be stretching your tongue after you brush your teeth in the morning too?
Source; D listed.