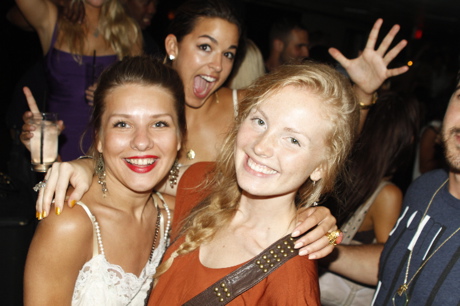 According to Matt Levine I've got to haul my ass over to his hot vibe space at Eldridge East- aka Bamboo. To be honest I've yet to arrive (something about purring glamazons keeps me at bay-blah!) but if Mr Levine's naughty venue on Eldridge st in the city is any guide I ought to put aside my inhibitions and make the trek over. So for someone who is a personal fan of Mr Levine's party vibe and even the man himself (we'll all forget all those awful comments about him being a grand poseur when he first opened Eldridge st- us media folks as you know can be mean -double blah!) this summer make a trek over to Eldridge st. By the way if you happen to notice any saliva on the pictures below it's just my drool as I was putting up the pictures.
So yes Mr Levine, I will most definitely catch you at Eldridge and as they say in show business- 'let the good times roll…'
Cocktails at the Eldridge, rediscovering your palette
The Groove Jet From The Eldridge now give you Glamour Fridays…
Sexual Feeling at the Eldridge.