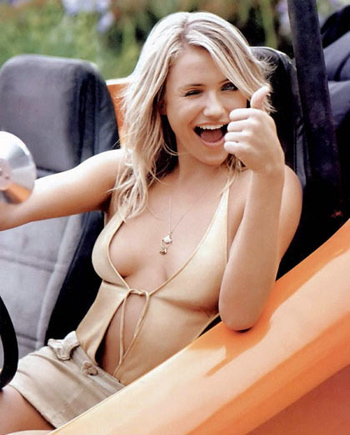 The tell all of a hot blonde.
Cameron Diaz has just come out with a new interview where she discloses her aptitude for sex. Want to know more?
Playboy reports:
On traveling for love:
"Oh gosh, I can't even count how many times I've gotten on a plane for love. It's not unusual in this business; my lifestyle demands it. I'm always traveling for [whispers] cock. You've got to go where it is."
We're already betting studio producers are on the phone trying to figure out which 'cock' she means exactly. Of course we're certain that bitch Perez Hilton will dig out the grime first and even draw a picture of his own pecker over some dude's face.

On her famous booty:

"My booty has been on hiatus from film but certainly not from everyday life, where it doesn't stop moving. It's in constant sway and has a mind of its own. On camera, though, there just hasn't been an opportunity for it to assert itself lately."
Which is just a coy way of Cameron telling you- look all you want, but if you aren't paying the toll, it's not coming off.

On men who try to pick her up:

"I never shut down any man who's willing to ask me out unless he's a total douche bag. It takes a lot for a guy to ask out a girl like me—not because I think I'm superspecial or anything. It's just that I think men are intimidated, and it's a lot to get involved with. It's not uncomplicated."

The fact of the matter it is quite complicated, one day Cameron will understand when she comes back as a man.
On primal sex:

"I'm primal on an animalistic level, kind of like, 'Bonk me over the head, throw me over your shoulder. You man, me woman.' Not everybody has the right kind of primal thing for me…I love physical contact. I have to be touching my lover, like, always. It's not optional."
Cameron in a round a bout way wants you to understand this is her department and if you can't meet the obligations she sets on you, you're not going too far. Of course she also wants to let you know that she's a vixen who is going to leave you sleepless tonight and looking for all the spare paper tissues you can possibly muster…