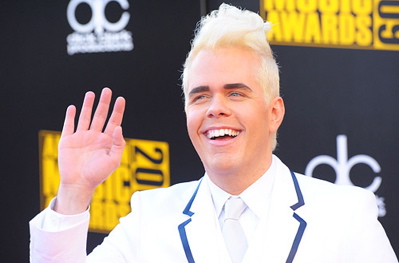 Media whores in the spotlight.
According to Gawker this afternoon, trash scumbag, Perez Hilton has been offered $20 million to walk away from his site. The details as follows:

Gawker has learned that Avid Life Media, the owner of sites including HotorNot.com and Ashley Madison, has partnered with two prominent gossip bloggers to put in a $20 million bid to acquire PerezHilton.com.
Davidson also confirmed that a Letter of Intent was submitted to Perez and his attorneys earlier this week, and that Avid Life is now just waiting for a response.

Perez is probably besides himself right now and drawing more little white sticks drooling out of people's noses, but this time we suspect he's drawing little dollar bills floating backwards up his ass. How he got away with the biggest scam on the planet Earth has yet to probably resonate with him, but we're sure the occasional glance in the mirror puts an occasional halt to the merry go round skipping he does along his private red carpet he keeps in the basement.

It's our understanding that the intention is to use the PerezHilton.com address as a sort of massive traffic-forwarding address to a new gossip site run by Taylor and Richie. What role (if any) Perez Hilton himself would have in this is unclear; Avid Life's Davidson said that she couldn't say, because they don't know yet.

Which makes perfect sense, cause if you're going to build a giant sewer leading out to sea, you're going to have to connect with the largest sewer currently making its way around Malibu and the Grand Canyons of USA.

It's unclear if Perez is interested in selling his site. And without knowing what Perez's role post-sale would be, it's hard to say whether the offer is a viable one or not. A year ago, 24/7 Wall Street estimated PerezHilton.com's value at $32 million, and that number would presumably be higher now. Then again, such outside estimates of closely held internet companies are notoriously tricky; $20 million could well be more realistic.

We're betting the only realistic offer on display is that the media world is about to drizzle more baloney up its nostrils and if you thought 24/7 updates on Lindsay Lohan's crack habits were de rigeur, wait until you get 24/7 micro updates on Perez's new website- Easy Lohan.com
Source; Gawker