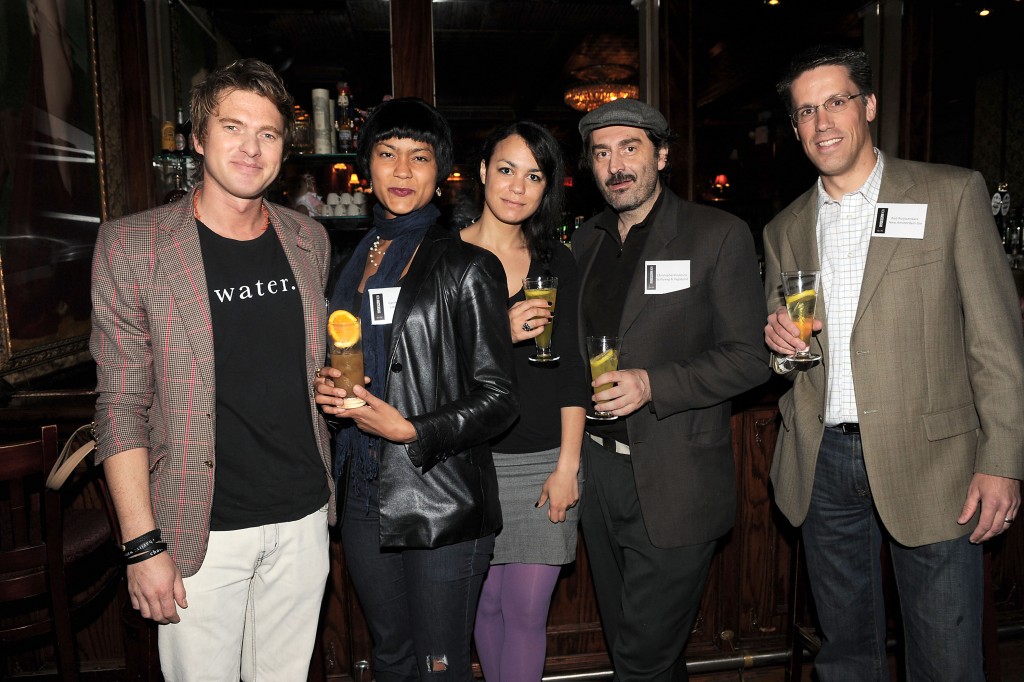 By the time I arrived at the undisclosed location (I had a car service take me to a secret location for crying out loud) at Norfolk st's 'The Back Room,' I was already beginning to wonder with whom I would share the first prize that I knew I was bound to win. The event was simple- 'New Amsterdam,' a smart, languid new gin on the market was hosting it's first Gineration cocktail challenge with a bevy of New York City's famed nightlife/drink bloggers (someone should have warned the organizers that I'm prone to terrorizing nightlife as opposed to coddling it…blah!) and depending who would make the best concoction (prefaced on taste, style, presentation, naming of said drink and most fantastical back story behind such cocktail) would be offered the grand prize of a catered private dinner for 10 courtesy of New Amsterdam- the organizer of the event.
Now before I go ahead and tell you what I created and how I wowed the judges (of course I am not so sure if I wowed the other bloggers, you know the love hate thing us fellow bloggers have for each other..double blah!) – I want to tell you about the little secrets you should know next time you decide to venture on the social circuit.
First secret- Premium prices do not equate to premium content. According to Alex Ott, master mixologist (which does not mean master drunk kids…)- that is a purported fallacy to get you all broke and spent up. In fact at the end of the day it's very hard to distinguish between a variety of gins, and essentially it comes to patented formulas, one of them being primarily the extraction of juniper berries- one of the key ingredients of gin.
Second secret– Most bartenders have no idea what they are in fact serving you and are in fact pushing premium brands because those brands have paid the proprietor a handsome fee to keep pushing their product. How about that for a doozy.
Third secret– New Amsterdam gin, is just as good if not better than some of those other gins that sell for 2-3 the price (we will not name them of course) and because a regular 750ml bottle of gin will only set you back a mere $13-15- that means you have more money left over to buy another bottle for the ride home (by that kids- I mean- you make it to your destination first and then you go a little silly…)
Fourth secret– New Amsterdam gin is made with a vibrant hint of citrus which means if your nostrils work the right way you can begin almost immediately making some of the most wicked cocktail concoctions you ever thought possible. Which brings me back to the idea that as a fledging writer and bartender in yester year I could pretty much out cocktail any blogger that so much dared look at me. Well so I thought…