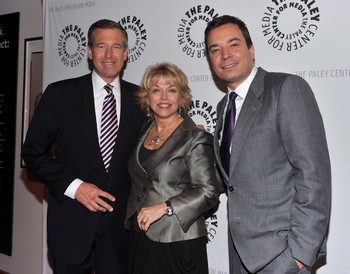 Within minutes of arriving on stage at the Paley Center for Media, Jimmy Fallon lead the audience in a sing-a-long of "The Giraffe Song" written about Tiger Woods (originally performed on "Late Night").  Minutes before that, the audience enjoyed a video featuring "best of" clips of the famous show he took over after Conan O'Brien left to host "The Tonight Show," providing fan favs such as "Mick and Jimmy backstage," "Dave Matthews GPS satellite navigation system" and "Beer Pong with Betty White."
NBC Nightly News anchor Brian Williams, who makes regular appearances on "Late Night" as part of "Slow Jammin' the News" is as funny as they say.  Sitting in their respected chairs side by side, Fallon commented "You cross your legs like a woman" and later joked, "We're registered at Bed, Bath and Beyond." (laughter)
Leading into the topic of set design on a late night talk show.  Ever wonder why there is a desk positioned next to a chair, like there's going to be a televised job interview?  This is because the alternative would be "2 chairs, 2 crotches in your face!  The desk covers the thing!"
"Thank you the letter 'G' in Goldman Sachs for being there, because otherwise everyone on the news would be saying "oldman Sachs." (laughter)  But as Fallon will tell you, not all jokes are funny.  Monologue FAIL.

When the monologue is bad and people don't laugh, you can't take it personally. Fallon is known for giving cue cards for a joke to audience members if the joke falls particularly flat but luckily for Fallon, comedic inspiration is everywhere.  "If the security guard has a joke, I will take that joke."

Growing up he was obsessed with Saturday Night Live.  He idolized Steve Martin and John Belushi.  After being discovered as part of comedy troupe "The Groundlings," Fallon was asked to audition for writer/producer Lorne Michaels and before doing so was told "Lorne doesn't laugh" (so he wouldn't take it personally) but when he broke out his Adam Sandler impression, all that changed.
BW: "Is it true every cast member has done Lorne Michaels?"  (laughter)
"I meant an impersonation.  You guys are sick."