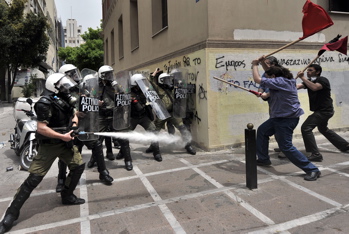 The furor of the 1960's suddenly returns.
It used to be that you would swallow your pride and accept whatever the authorities dolled out for you. Well used to be that is. In Athens, Greece – things aren't quite falling that way and that has a lot of people worried, because suddenly revolt and public dissent is holding sway when it's something that is usually held in check. Call it a return to the volatile 196o's when citizens used to gather and mobilize against the authorities or call it just an anomaly. What ever you want to call it- for once the public has got the system by the balls and the kids at the Euro bourse aren't particularly enamored- who else isn't enamored is the US government. Why? God forbid you stop watching reality make believe on TV and suddenly one day take to the streets yourself.
Anyway – the world is becoming more volatile and people are starting to resist the bitter medicine that elite authorities are prescribing. Looks like this reality show is going to come with some real sparks- and maybe that's not a bad thing – or is it?
Source- New York Times.