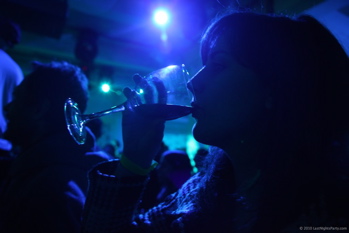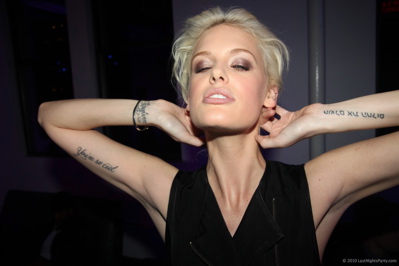 I shoved the last piece of Matzah in my mouth, kissed my bubby goodbye, and ran through the misty night in search of a taxi. "36th & 10th," I said to the driver, "and step on it, please… I wanna see Sarah Silverman!" Just like that, I was off to The Darker Side of Green, an event that took place this Tuesday night in Chelsea.
I had never been to Skylight West before, but I knew I had reached my destination when I saw the bright, lime-green lights, illuminating an over sized doorway.  I walked through the entrance, following the green, with a slight feeling that I was embarking upon some kind of futuristic spacecraft. It was almost as if I was in a pleasant trance… until I saw the line to get in. "Ughhh, major downer," I thought to myself! When, all of a sudden, out of nowhere, my friend James Coppola popped up on the other side of the ropes. "Jamesss," I purred, "I don't want to wait in this line." He cocked his head to one side, and with a look of sincerity said, "All the Glamazons are doing it." Somewhat irritated, I turned around and gave the line a good look. James was right. I have never seen so many good looking, well-dressed people so well behaved on a line before. It was as if the promise of Sarah Silverman, Paul Sevigny, The Misshapes, and a three-hour Patron open bar was enough to mitigate even the most impatient of the partygoers.
I got in line behind two gentlemen who seemed somewhat interesting. Wanting to figure out whether or not they really were, I completely eavesdropped in on their conversation about "art parties" as I checked out all the kids who were on the line around me. I began to get lost in watching the tall, gorgeous girls in breathtaking boots and bold blazers with long flowing locks, surrounded by handsome boys in feathered hats, skinny jeans and suave jackets when my thoughts were interrupted by one of the two gentlemen, "I mean, really," the one without the feathered hat said, "if you can't afford to buy a beer, just stay out of the art world."
When I arrived at the front of the line, I gave my name and ID to a man with a large list; in return he snapped a green <shocker> bracelet around my wrist… the ropes were parted and as I waited for the elevator, I began to read a tiny sign alerting me that by entering the party, I was giving consent to be photographed and videotaped. Did I want to be photographed? Videotaped? I wasn't sure… What was this all about anyway?
I boarded the freight-style elevator and instantaneously had flashbacks of Sienna Miller in Factory Girl as she visited Andy Warhol's Factory for the first time… The elevator doors parted open and the sounds of Santigold flooded into my ears. I stepped out into the main room sincerely hoping, relishing in the notion that this may actually turn out to be a good party…
Unfortunately, that feeling lasted less than 30 seconds, as it took me less than 30 seconds to see the large, new,
You can also check out Dani's personl blog at thefrogge.com