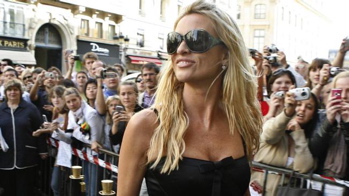 The drama that is happening off stage.
No reality show it seems is worth its weight in gold without it's own wonderful drama off stage. That said welcome to the latest drama in 'reality TV' (an oxymoron if we've ever heard of one…) where the show's star Nicolette Sheridan, a blonde ditz with a perennial bronze tan and a longing for round the clock media attention is claiming that the show's creator Marc Cherry hit her across the face and head, and then fired her after she complained about the assault.
The details as follows:
The 46-year-old British-born star claimed Cherry created a hostile work environment by "behaving in an extremely abusive and aggressive manner toward the individuals who work on the show".
She accused Cherry of physically assaulting her after she questioned him about a script during filming of the show's fifth season on September 24, 2008. "Cherry took her aside and forcefully hit her with his hand across her face and head," according to the lawsuit.
Well, this sounds interesting. Abusive and aggressive? Didn't someone whisper once that is the bane of all drama? That said, it seems reality TV has decided to market itself on a new tact and of course as idle innocent viewers were all quite game for the latest off site drama, because as you all know there's nothing more appealing than watching a blonde vixen being mercilessly knocked off her totem pole and her clawing back up with open fangs.
Continues the report from news.com.au:
The show has come under fire recently after rumors of onset feuds between the stars. Hatcher and co-star Eva Longoria Parker denied the claims in separate interviews, insisting that the cast were all friends.
Friends? That's another oxymoron. Who wants to watch a show about over the hill actresses borrowing sugar from each other? In any event we're sure the new drama is bound to bring the faithful back, after all nothing sells more than watching self entitled women lashing vengefully at the world. Marc Cherry, you my dear have a very long summer ahead of you…