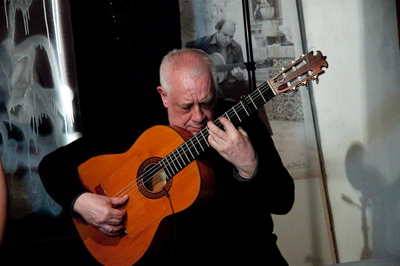 Art Salon: Where creativity is cause for celebration. That's not the official tagline of the Salonistas, but it may as well be. As anyone who's been paying attention already knows, Art Salon is the monthly fête where featured artists Gilles Larrain, Louda, and Thomas Shelford invite us all to observe their artistry – or even take part – while mingling with the new creative class of NYC.  Not bad for a Thursday night.
Though Thomas Shelford is always a major presence at Art Salon, this month was special. Shelford unveiled his latest allegorical self-portrait, "The Purist," along with the sketches, drawings, and color studies that informed the final work. He was happy to indulge party-goers with an explanation of his process.

"I don't like to work from photography when I do figurative paintings, so this took about 80 hours in front of a mirror. In order to create an image without using any photography, from life, it's very helpful to build up to an image. This is some evidence of the process here…. I progressed from there through various stages, refining, trying out difference color combinations, refining, trying the whole thing in black and white to get a value structure. Then you put all these pieces together and end up with this finished product."

Shelford also expounded on the inspiration and purpose of the piece. "It is a self portraint, but I'm also creating a persona, a character… In the background are improvised Mark Rothko paintings. I want to bring together the two sides of the brain. The physical organic form and the abstract idea…. You can see these abstractions next to an organic form. They also represent the intellectual world that this figure is preoccupied with."
Gilles and Louda Larrain's Lucky 13th
Gilles Larrain and Louda; Doyens of the Salon.
Gilles and Louda Larrain- A Feasting of Art.