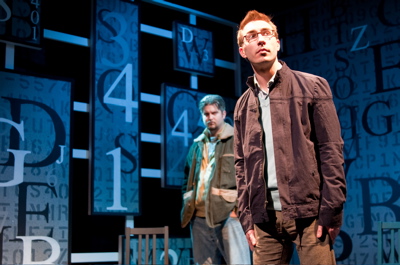 New theatre is one of the cornerstones of New York City. Simply put, it's what people come here to see. Some of it is good. Some of it is bad. Like Jason Hall's two-man show, GBS, some of it is excellent.
Jason Hall's full-length one-act enjoys its United States premiere on Theatre Row at the Kirk Theatre, courtesy of the Clockwork Theatre company.  Director Jay Rohloff steers the talents of two superb actors, Curran Connor and Jason Jacoby, to create a memorable, heartfelt piece of theatre that I cannot recommend enough.
GBS is the story of two brothers, meeting (for the first time in years) over their father's failing health. Their father's diagnosis—GBS—gives us the title of the work. However, the letters' true meaning isn't revealed until well into the play.  The show begins with a senseless recitation of numbers and letters, introducing us to Rich and Sam. Like the title, the significance of those letters and numbers isn't fully realized before the story's finale. Go see it.
The play is a unique blend of first-person monologues, talking directly to the audience, mixed with interaction between the two actors.  Rich and Sam are two of the most fully three-dimensional fictional characters I've ever seen.  They are just… real. Rich is an auto mechanic, a divorced father of one, and the owner of a scintillating, volatile temper.  Sam is a failed actor, gay, and living in London tending bar when he gets the call to come home.
What gives them their depth and dimension is not their virtues or flaws—they have them, yes—but how they interact with each other. They play familiar roles that are entirely defined by their relationships: Rich is a happy father, a bitter divorcee, a brother and a son frustrated with a doctor's passive aggressive doublespeak. Curran Connor displays magnificent versatility and power in the role. Rich's temper comes from Connor… it's a marvelous performance.  Rich is overweight (Connor is not), and it's apparent that his appetite is a means to swallow that anger. The richness of the character is a tribute both to superb writing and disciplined acting.
Every bit as talented is Jason Jacoby; playing the prodigal son Sam.  Sam's roles are different, but just as easily recognized: Brother, uncle, lover, son, ex-brother-in-law… all brought to witty, urbane, articulate life by Jacoby. Sam is more in touch with his feminine side. (Being gay probably helps.) His peccadilloes are different. He smokes, he dresses well, and looks down on his brother's lot in life.  Sam got out, and crossed the Atlantic Ocean to do it.  He is less than thrilled to be back, and plans to stay as briefly as possible.