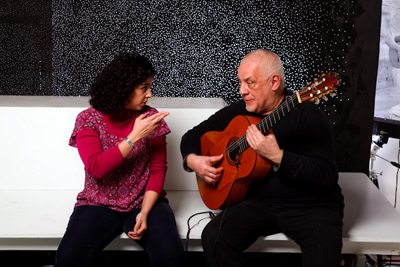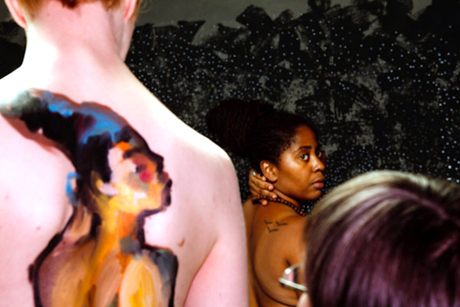 Finally, I found an artist who would paint a nude model on the back of another nude model.  Another check off the wish list for this young fellow.  This was just a tease of what Gilles and Louda Larrain had to offer at their 13th Art Salon Party.  The Art Salon Party is an exciting exhibition of various arts that takes place on the last Thursday of every month (not including November and December for the holidays.)  January's last Thursday was no exception, as it became the first of the new decade.
At first it felt as though I was interrupting a painting class, with nudes prominently displayed on center stage and artists' interpretations being laid out onto sketch paper.  Though after a quick once over at Louda's work, it was obvious these were no amateurs.  Providing a calming acoustic atmosphere was the main man himself, Mr. Gilles Larrain.  He warm-heartedly opened up his studio, as if we were welcomed family coming over for the holidays.  (Well, at the least family members one would enjoy spending time with.)  The married couple eats, sleeps, and breathes art.  Louda was kind enough to show me her work, which ranged everywhere from imaginary and colorful gowns to experimental superhero hats – a few of which this writer wouldn't mind rocking on a Saturday evening.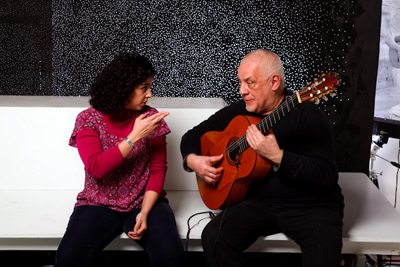 Painter and all around art networking connoisseur, James Rose, was a key organizer for the performers at hand.  James explained to me how events like Art Salon are perfect for today's economy.  Let's face it; art aficionados are keen on various platforms of expression.  So, why not combine a variety of performers into one event?  This is exactly what we witnessed.