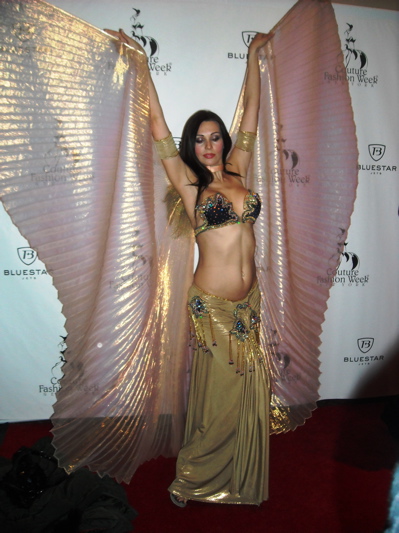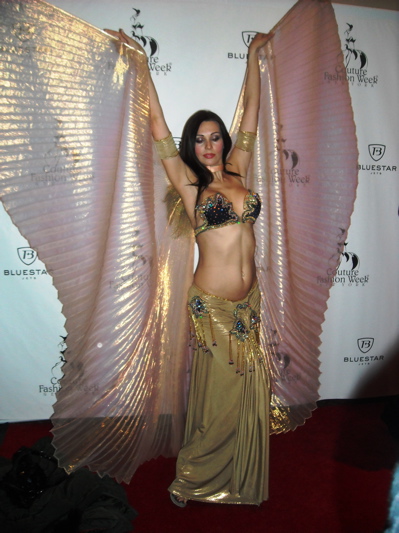 Andres Aquino, besides introducing his Fall 2010 line, produced the entire Couture Fashion Week, and like always, he wouldn't hesitate to leave his fingerprints all over it. Dancers, opera singers, Pakistani beauty queens and 10-year-old reggaeton superstars — yes you heard right — competed with the models for our attention.
Initially, it was Aquino's genius hybrid of runway modeling and dancing that won the night, and afterward sent photographers clamoring. Clad in the spring greens and eggshell blues that reminded us of the season to come (as far off as it may be) they weaved and preened down the runway as spectators drew in their breaths.
Later, when the models at last came out to highlight Aquino's collection, they drew us in with other worldly feminine allure. Aquino's golds, whether in a glimmering gown or a solid-colored sheath, took on a buttery tone and moved with the models. A metallic silver sheath, opaque on the bottom and sheer on the top, paired with lace-up gladiator sandals, missed only a sword to make her an ancient warrior.
Harvest and fertility goddesses wore orange and red emroidered silk gowns, and a floor-length white chiffon frock showcased layers of tulle at the shoulders, to immediately catch the eye. Down the runway came goddess of the moon and sun, complete with capes, wings and headresses illuminating their undeniable divinity.
Pop star Ciara Corr, an up-and-coming dance club impresario, performed between shows, as well as tenor Eduardo Herrera.