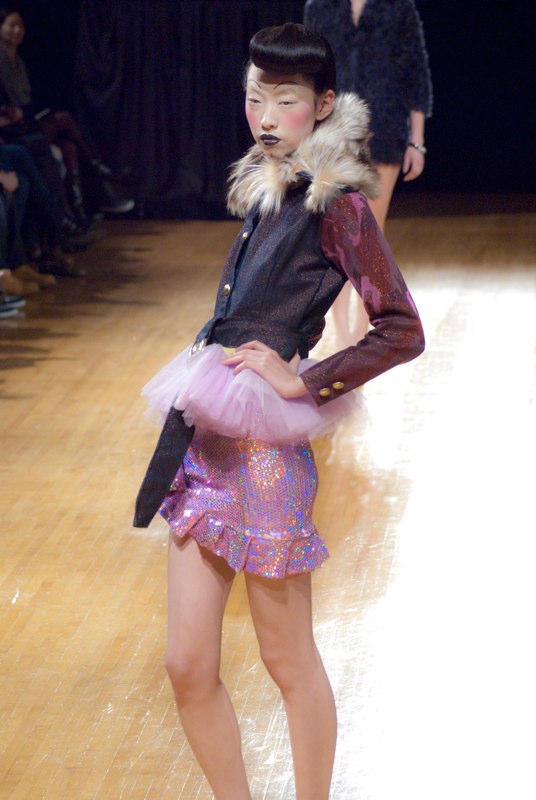 Adrian Alicea presented a daring collection of incongruous yet stunning touches. Fur is everywhere and so is glitter, with last season's glittery-skirt trend expanded to envelop the entire form. Alicea is a master at marrying glamourously-draped skirts with unexpected strucutural touches. One look showcased a faux-fur vest dyed yellow paired with a golden miniskirt studded with spangles, and made liberal use of animal prints and exotic textiles. A gold-beaded two-piece bathing suit seemed equally suitable for a Miami beach club, or Mars.
Alicea's artistry managed to marry the edgiest of street fashion with the most elegant of eveningwear, such as a red leather-patched track jacket paired with embellished dark leggings. An structured gray Victorian-style jacket paired with a floor-sweeping black velvet skirt made for a commanding silhouette. A yellow lace tutu-length crinoline is playful, but becomes, when paired with a structured peplum jacket in a rusty print, if not serious, then at least meant to be taken seriously. Alicea managed to create a playful, fantastical collection with a good number of wearable pieces.
Nico and Adrian give us whim and wit.
Nico and Adrien go for Marie Antoinette.
Brooklyn Fashion Weekend Oct 3rd-5th, Spring 2008.