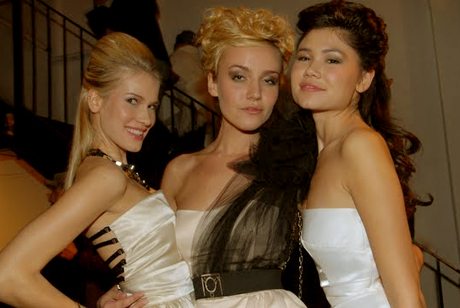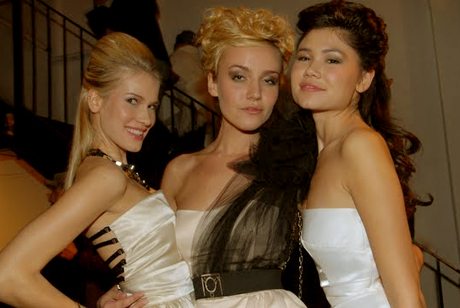 Last night saw us romping through downtown and in the visage of preferred femme fatale Alexandra Alexis who we are so incredibly fond of. There to lend support to her guest appearance at Via Dei Mille ( a lovely Europhile chic destination…) in conjunction with the showing of local talent Enrique.
Swamped by well wishers and the cool jet set crowd (where do they always manage to find each other and always turn up at the same time will always remain a mystery to us…) we were privy to Miss Alexis sexy bootie performance. The champagne flowed and on this occasion we were all rather well behaved although I was accused by a perceptive guest of being a finagler of females interest…Oh dear.
After her spirited performance we were able to catch up with Alexandria.
SCV: So what has happened since we last caught up?
AA: I've been working non stop, lots of engagements, flying back and forth between NYC and Helsinki, Finland and getting ready for this Sunday's performance at Kiss n' Fly for the famed music producer Josh Woods party.
SCV: A little birdie told me you might be opening for Kylie Minogue when she flies to NY next spring, is that true?
AA: Well it certainly is in the cards.  My new album is set to be out by then so it would be wonderful.
SCV: Would you mind buying this Scallywag a glass of champagne?
AA: My god, I'm sorry- I should have got you one immediately.
SCV: Who's the tall brooding gentleman to my left?
AA: He's Prince my choreographer. He just finished choreographing for Rihanna. He did 'Disturbia' with her.
SCV: Wonderful. Prince do you mind buying me a glass of champagne after I finish drinking this one?
P: Do I have a choice in the matter (laughter).
SCV: Well I am negotiable.
In the end the Europhile increased in rank, Enrique was somewhere if only I could find him and when it came time for Prince to buy me a drink he was suddenly gone, fortunately for me the divine Miss Alexandra Alexis helped pass the wonderful evening…