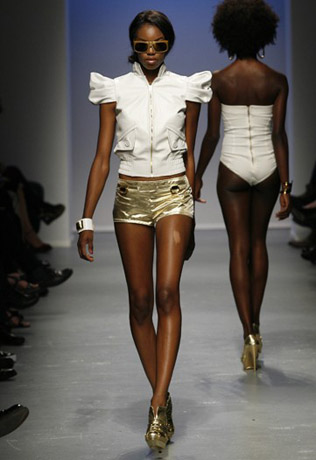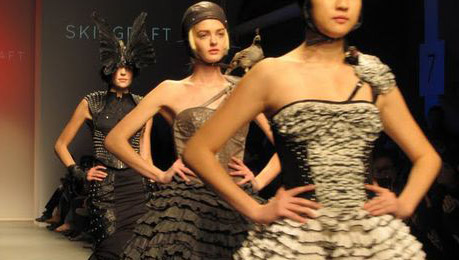 LA Fashion week closed October 31st 2009. Even though that date gave license to some scantily clad holiday behavior  it also gave pause to how far the scene had finally had come and had yet to go. Then again this is LA and as much as it wants to rival the world Los Angelinos ultimately are content to luxuriate by golden mansions and spend that extra second sucking in those long lazy sun strokes. That of course did not diffuse the aura and the pizazz that was to follow– even if ironically LA fashion week is actually a month as opposed to the misleading idea of it being a week…
This year downtown Los Angeles celebrated Fashion week by having an open editorial spin on displaying designer collaborations for all to see at Box 8 studio. L.A Theatre was also celebrating fashion week with runway shows in the Downtown  Garment district in conjunction with The Geffen Contemporary at MOCA. Quite simply downtown Los Angeles was probably the best attempt for any kind of credibility for a sponsored fashion week L.A had left, and it nearly made it…
Coming back to L.A after New York fashion week changed my perception on how important  organization really is. There has been a lot of different opinions about the ordeal with Mercedes Benz fashion week @ Smashbox Studios. There have also been a lot of people who have been working to keep the fashion scene in Los Angeles artistically substantial and attractive for big name designers and sponsors alike. The interesting thing about L.A is that there's really more than enough drama in it to write a novel and don't be surprised if it becomes its own movie.
Given the breakdown in the mainstream fashion event that was the Mercedes Benz, designers and promoters ultimately chose to celebrate their own fashion week all over the city. Despite the monotony of egos, guest lists, and self proclaimed "designers" the fashion scene in L.A attained some mileage and ended up giving some very talented people press. The problem however was getting all the chiefs in the same boat and paddling in the same direction. Then again this is epicenter of egos and roving shutterbugs and sometimes poise and cheekbones become more important than anything you throw down a runway…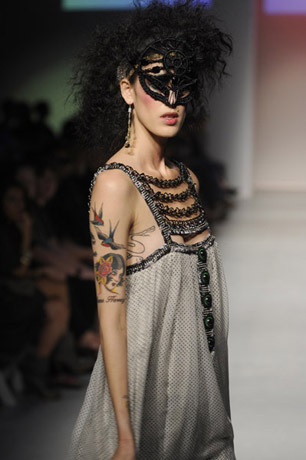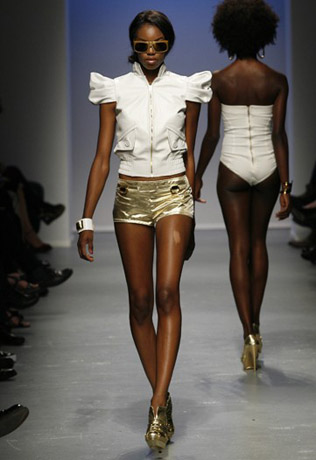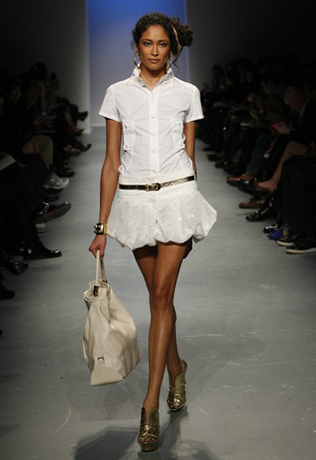 Fashion week was broken up in to all parts of Los Angeles. Held in part at Sunset Gower studios in Hollywood with a designer line up admittedly light for my appetite: Designers Tavik Swimwear, Urban Republic Clothing, Raw-7 and Division E pulling some great punches. With the  after party held at the Mondrian Hotel on Sunset blvd, the ambiance was kind of stale for my wardrobe. The most fun or annoyance came when it came time to parking and then getting into the joint cause if you know anything about LA everyone knows someone  on someone's list, especially when everyone is on someone's list…

If anything downtown L.A came close to pulling off some real vibe with probably the most stylish runway shows. The Geffen contemporary at MOCA seemed to get it right boasting a designer line up to the likes of Louver by  Louis Verdad, Jerell Scott, Alakazia, MartinMartin, The battalion, Violeta Villacorta, Elizabeth Mason Vintage, and a local favorite SkinGraft Designs. I am feeling the new spring "sexy" they have coming out this spring 2010, and it should make a lot of people glad they hit the gym over the holidays. Box Eight studios in downtown L.A was off the chain for the Dave LaChappelle issue launch party for Flaunt Magazine.
Free vodka on tap, naked models bathing in vintage bath tubs with panting paparazzi kept the place looking like a Herbie Hancock video in overdrive.  Thunderheist was performing live in the main studio room while Dj Fashen was keeping everybody in a good mood outside. I was welcomed into a garage like loft with pool hall lighting and silhouettes of women photographs by Peter Gurnz wrapping the walls, a 1974 Chevy Camaro prop car set up, and vintage Indian motorcycles as décor. It felt like the perfect bachelor pad dream loft where Box eight designers showcased their spring 2010 as a make shift fashion editorial photo shoot. The whole studio was laid out with simultaneous photo shoots going on throughout the studio like an art instillation at an art gallery. Bravo!..
Friday, October 23rd
6:00pm-10pm
Louis Verdad
shot by
Don Flood
Lloyd Klein
shot by
Luke Duval
Rami Kashou
shot by
Garret Suhrie
FACTORY
by Erik Hart
shot by
Ben Cope
Corpus
shot by
Patrick Hoelck
Saturday, October 24th
6:00pm-10pm
Jeffrey Sebelia shot by Kurt Iswarienko
Skingraft shot by Gitte Meldgaard
SECTA shot by Peter Gurnz
Orthodox shot by Lionel Deluy
Sunday, October 25th
6:00pm-10:00pm
Kucoon shot by Kenneth Sweeney and Daniel Jung
Jerell Scott shot by Peter Gurnz
Linda Antico shot by Ben Cope
Michael Costello shot by David C. Lee
2013 shot by Mark Sacro
After a whole month of fashion and after parties in L.A I have to say that I had fun participating in all the events. I look forward to the festivities being condensed down to an actual week, but in the words of the infamous Sam Cooke, "change gon come"….