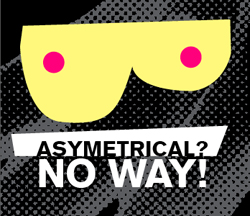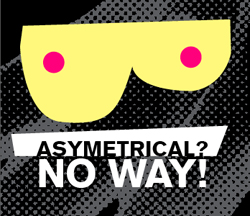 Learning how to survive on your looks…
There are some things that warrant attention and concern when the sexes negotiate  with each other. Out of reddit, we found a new nagging concern that until now was little discussed – asymetrical breasts.
Asymetrical careers, bank accounts and even asymetrical faces can cause friction when negotiating relationships but it's good to know that women are now owning up to the latest thing that should keep us all frustrated and locked in the room.
Reddit Men: How do you feel about asymmetrical breasts?
I was just wondering what you guys think about asymmetrical fun bags…Now before I hear anything about how nothing is perfectly symmetrical and men really don't notice, I'm talking about an obvious asymmetry.
Personally, my right breast is a full B and my left one is an A and ever since I started puberty I could notice the difference in growth. When I would go to the doctor they would just tell me to wait it out till I turn 17 or until I stop growing and to maybe start using my left hand more that way the tissue will get worked up and it'll even out eventually.
Fastforward 18 years later and the size difference is still there. It's definitely hit my confidence when it comes to my body as i've never even let myself get physical with a guy before as I'm afraid of letting anyone see. I never go swimming unless I have a well padded top that hides it really well.
I also went to go see a plastic surgeon early this year but I definitely think that surgery isn't right for me…
I know that there are women out there who have like a full D cup on one side and an A cup on the other so I know that one 1 cup size difference isn't the most horrible of outcomes but I was just wondering what you guys would actually think if you a girl took off her shirt and you saw…well what I just described.
I'm also late for a statistics exam right now so I'm too lazy/in a rush to see if I made any spelling errors but thanks in advance guys!
Asymetrical breasts are never a healthy option and we urgently request every female to have an asymmetric screening test asp and in return we here at Scallywag and Vagabond will start a petition to make sure every man's balls are appropriately symetrical.
Shouldn't you be confessing something soon? Getting by on asymetrical balls and boobs.