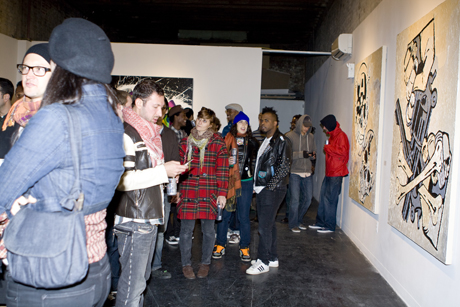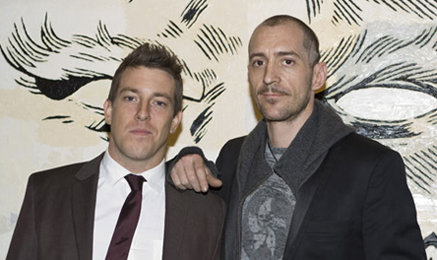 What do you do when your place nearly goes up in flames?What do you do when all you fight for has come to a catastrophic standstill? You resurrect yourself.
This past Wednesday, Collective Hardware curator and creative director at large –Stuart Braustein alongside Joseph Ian Henrikson of Anonymous Gallery simultaneously  curated two shows on two different levels which had the crowds howling in standing ovation.
Infusing a dialectic of serenity of heavenly purity on the 2nd floor (that of the work of Katherine Blackburne and Stefano Castronovo) and that of the edgy dark and heavily popular culture referenced artwork titled Subculture Capital starring Ronnie Cutrone, Rammellzee, Kostas Seremetis, and Romon Kimin Yang aka Rostarr on the ground floor the Collective enthralled all.
The ground floor saw the display of heavy hitters Ronnie Cutrone famous for referencing edgy popular culture motifs going bezerk and sartorial references (as well as being Andy Warhol's right hand man), and Rammellzee with his hip hop referential outpouring and dark themes remonstrated in elaborate Japanese head wear and jewelry pieces. Romon brought smiles and vivid memories with his allusion to Pac Man and Star Wars motifs while the younger Seremetis explores the duality of being, lightness,  and challenging urban realities in stark terms.
Looking around the room one could hardly believe the Collective could have pulled this off. Over a week the whole place had been gutted due to stampeding firemen extinguishing a minor fire on the fourth floor (a result of faulty electronics). Water was weeping across the vicinity (not to mention Braunstein's face).

He commented after the initial shock and dismay he realized on some level it was an act that could put the collective closer and to regroup in a vigorous assertive fashion.
Milling around the crowds, the vortex of energy feeding of each other and the heavy hitters that have joined with some emerging talent (like that of Blackburne upstairs) one can consider the Collective a shining example of a Phoenix rising. Then again, who doesn't like thriving underdogs…