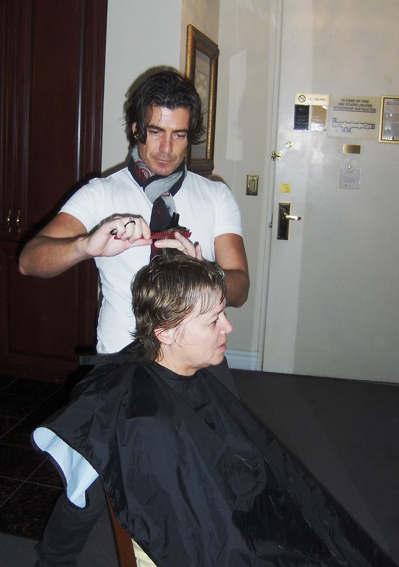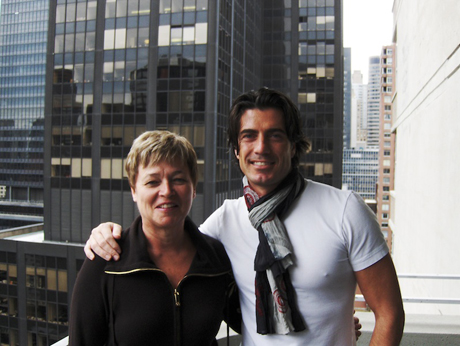 You've seen his work as mentor on Bravo's hit Shear Genius. You've seen hers in the print work of celebrities like Cindy Crawford and Sienna Miller. And if you happen to know Susan and Melanie Denischuk, you'll see exactly how their brand of aesthetic magic works. I speak, of course, of hairstylist Rene Fris and makeup artist Barbara Camp, who generously donated their skills to benefit the Viennese Opera Ball.
It's hard not to be a little jealous of mother and daughter Susan and Melanie. Though they live in San Diego, the pair scheduled this year's annual trip to New York City around a decidedly fab activity. As winners of an auction to benefit the Viennese Opera Ball, Susan had her hair cut by Rene while Barbara gave Melanie a lesson in simple makeup for going out on the town.
As the distaff half of the Denischuk family were being pampered at the suite donated by the Kimberly Hotel, Rene and Barbara spoke about their careers in fashion and beauty. It doesn't take long to see that Rene has enjoyed an exciting career trajectory. Since coming to the United States ten years ago from Denmark, Fris has done extensive professional modeling with Ford, developed a line of hair care products, and worked on two seasons of Shear Genius. However, before Shear Genius he very nearly became a different kind of Bravo star.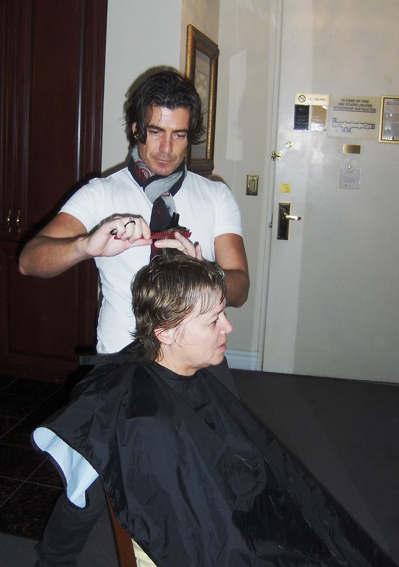 "I got a call from Queer Eye [for the Straight Guy] when they started doing it and I turned it down…. I didn't really know what it was, and when I got the phone call about five gay guys rolling down 5th Avenue on wheels I was like, no. I'm not doing that. But then when the show was on, you saw it really didn't have anything to do about gays, except the title, the rest was about helping out lost guys, straight guys. So I went back and did it there [the European version of Queer Eye] for 6 seasons."
Fris is so good looking that he'd probably get stared at on the street even if he'd never been on TV. But being on Bravo in America makes a person into a very specific kind of celebrity.
"In Europe, people don't say anything… Here, people are very good about actually giving you feedback about what you did. A lot of people ask questions about Jaclyn Smith. People are very friendly. When I go to certain restaurants or clubs or whatever, like last night I went to the Boom Boom Room at the Standard, no doubt about it, most of them were watching the show…. You're a star for a night, but you're forgotten the week after."
Barbara Camp is also an industry veteran, but she hasn't let it g o to her head. "My makeovers are very no-nonsense. Ninety percent of my product list you can get at Duane Reade." In fact, Camp recommends Neutrogena as the best drugstore skin brand (they use the most yellow pigment), and has a weakness for Wet 'n Wild's three dollar bronzer. She held it up next to a $22 version by a popular department store brand. "I like this one better," said Camp as she pointed to the former.
When Fris and Camp finish with Susan and Melanie, the results were impressive. Susan's shorter 'do made her round face look rounder and feminine while Melanie's makeup was dramatic without looking heavy. No wonder Rene and Barbara are in such high demand.