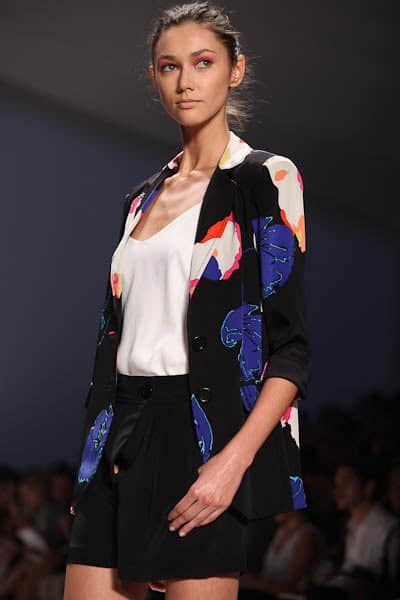 No matter how many shows one may attend, the thrill of backstage entry is consistently potent.  One enters this veritable fashion frenzy in the hopes of leaving with elucidation, a complete comprehension of the designer's intended vision. As I entered the backstage of Amy Smilovic's ensuing Tibi collection, I noticed Bobbi Brown to my left, peering over heavy rimmed glasses and applying a saturated pink coral eye shadow to a stoic, ice-blonde model.  On my right, Kevin Ryan, the hair stylist du jour, was surgically inserting pieces of colored fabric with forceps into a rough-textured, folded bun.  "These are left over from the dresses," he proclaimed; "it's our eco effort!"  With environmentally-conscious model macramé on my right and liberal heavy-lidding to my left, I understood that Tibi Spring 2010 was all about intense color, a splash of structure and a definitive feminine, airy simplicity.   
The dimly lit Star Lounge, located opposite the prep room, was bathed in muted blue light.  As I entered the lounge area, I was greeted by Esse Weingarten, of Esse Cosmetics, and realized that the color scheme this evening was, like everything else at Bryant Park, engineered to an art form.  She presented to me her newest color, a complex blue shade entitled "Midnight Cami," custom-designed to match Mercedes Benz's own "Capri Blue;" "to match your nails with your wheels!" she intoned.  
As I had not yet received my Capri Blue Mercedes coupe, a glaring PR oversight, I was obliged to walk to my seat.  The crowd was ecstatic, clomping over the sheeted runway in a vain effort to get to their seats.  The lights eventually went dark and the music began.  Amy Smilovic's Spring 2010 theme was "Great Expectations, set in the 1990's."   
The music was certainly suited to Dickensian pomp, with a modern bass beat; I half expected the runway to ripple with effect. Eighty's era Shoulder pads, spaghetti straps and colored prints splashed onto the clear runway; bubble skirts and loose fitting dresses suggested rather than showcased figure. Cropped pants wrapped around willowy legs, pleated shorts fluttered around jutting hipbones, and one-shoulder silk tops and dresses in icy pastels framed dramatic collarbones.  
Minimalism reigned as the models sported no jewelry and nude heels, though a dizzying array of colored sequins and floral prints shone from more than one piece. Though Smilovic claims to have created a decidedly feminine look, I could not help but sense a certain androgynous element to her collection. Some of her blazers and tops were indeed structural, but the severity of the pieces coupled well in the mix of billowing chiffon gowns and ruffled skirts. 
Smilovic's vision of Spring was at once suggestive of London fog and silky transparency, Dickensian complexity and modern simplicity, vibrant color and icy tones.   
Go to Scallywag's Photo Gallery.