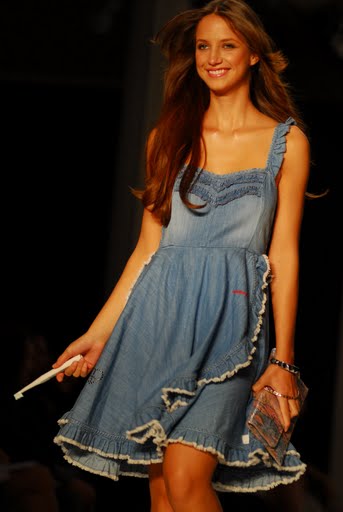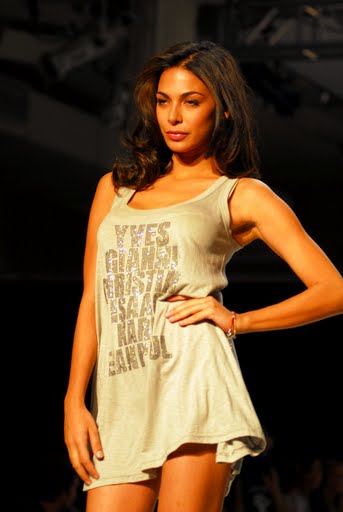 As the Oral-B Pulsonic collective gets underway, a hush falls over the crowd as the runway is illuminated and a bare-footed beauty emerges in a simple rose cami and rose tie-dye stripe pant by Maxey. When the next model, also bare-footed and clad in a blue and white stripe romper glides down the runway clutching the Oral-B Pulsonic toothbrush instead of a handbag, I am left wondering if I somehow stumbled upon a star-studded sleepover instead of a fashion show.
The designs progress from sleepwear to loungewear as models for slinky materialize.  With references to pop-culture motifs interwoven into the designs- a black tank dress with a 'pacman' print one is wistfully down memory lane…The next look involved 'Rich and Skinny.'  A black knit drape tank and crème jeans, paired with a black leather cropped motorcycle jacket evolved my daydreams from childhood days spent in arcades to those of high school rebellion, this time with a high-fashion street-style twist.
With simple yet carefully constructed designs the Caravan collection was a stark pleaser, that with the use of comfortable fabrics and great fitting techniques this will end up becoming a head-turning ensemble.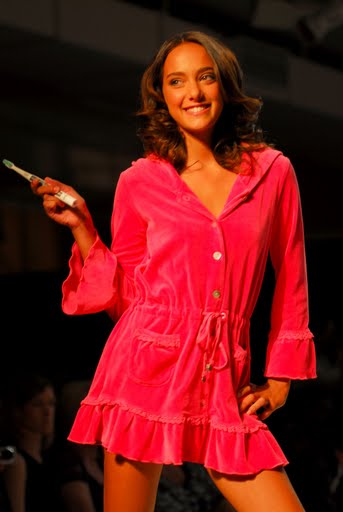 Next came 'Boy Meets Girl.'  With cotton v-neck tanks layered under faux leather reversible vests the collection was practical and wearable on an everyday basis while maintaining a high-fashion eye-catching aura.
The 'Bobbi,'Odd Molly and TART collections came next, blowing me away with a bamboo crochet halter dress and coral crochet halter crinkle woven maxi, both by bobbi.  Odd Molly's unconventional use of denim in a short, summery denim dress and intricate denim jumpsuit embodied the ready-to-wear theme of the Caravan show. TART showcased four dresses, each with print or criss-cross detailing, perfect for spring/summer beachwear essentials.
The show closed with the Caravan collection, by Claudine Gumbel.  I sat in awe as I witnessed a intricate high-fashion yet wearable feather and sequin tank dresses saunter down the runway.  The crowd cheered as Teresa Giudice and daughter Gia Giudice graced the runway wearing matching Crown & Gem tank dresses.  However, despite Teresa's beauty and Gia's spunk, the highlight of the show was the impressive white feather wedding dress that closed the show.  
Overall, the pieces featured in the show were of high-caliber quality yet manufactured with affordable fabrics and fitted in a way that flatters any figure.  The collection reflects the times; the moribund economy, durability, comfort and the idea that 'practicality take precedence over intricate high-fashion couture,' even if some of us long for the decadence of over the top couture…