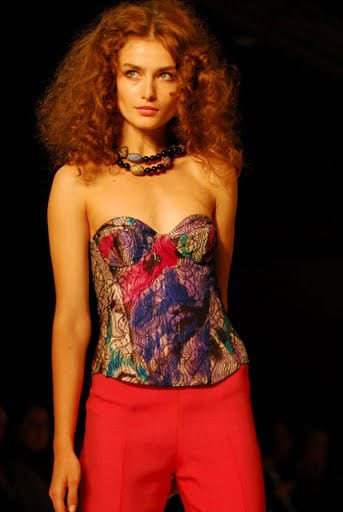 Amidst the chaos of holding rehearsals 30 minutes before the show and a backdrop being continuously let down and tied back up again, the Luca Luca show went underway with tensions high and a vein in an organizer's forehead pounding in synch with the rehearsal music. A long runway led up to a cluster of photographers all vying for the best position with blue lights dramatically spotlighting the name Luca Luca in all its grandeur.
A gaggle of celebrities were doused onto the front rows seats including Nicky Hilton and Paula Garces. As the lights dimmed, strange tense music blared through the speaker system, almost like in the beginning of a scary movie, (maybe a subtle way of telling the audience: "Brace thyselves.") The glaring lights of the show suddenly came on and out came the heart pounding electro-glam track. The models began stomping — not strutting — down the long runway in beat to the music. This fierceness made the outfits seem like empowering statements. The models did their thing and marched down the runway with power but with the ease of a strong woman.
The outfits were what has become expected of Luca Luca. Form-fitting feminine outfits with bright bold colors — came sashaying down the runway. Bursts of colors ranging from pink, white, yellow, blue, and red, exploded in a scenic orgasm for the audience to sit back and enjoy. The materials were mainly silk with some tweed and chiffon with great detail in coordinating the perfect location for a belt to cinch the model's waist — buttons and tiered ruffles galore as well. The clothes flowed in the air as if a wind machine was pointed at the models. Although there were pieces that hugged the protruding collar and hip bones of the models, they were still loose enough not to look suffocating. The clothes looked to be conformed in a way to accentuate a woman's curves in the most appropriate places. The models hair were a  curly mop that also bounced in all its glory and exuded a breath of a carefree attitude.
And of course being Luca Luca, a pop of color was always present. Whether it was through a single ruffled skirt peeking through a business suit's tail or a belt, it had the exact amount of "oomph" to make it stand out. A feminine and ethereal collection is what can be said about Luca Luca's Spring 2010 collection. With a wisp of sophistication blowing through the room like a sudden spray of Febreeze, Luca Luca's collection left me feeling refreshed. For those women who love to stand out this collection should be the designer label of choice to litter your closet.