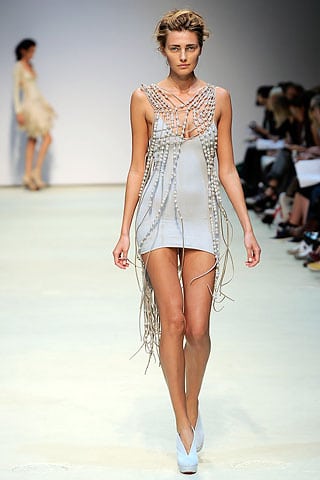 As confirmed by Mark Jacobs and the runways of New York Eighties styling details will be key come Spring/Summer – with a 2010 twist of course! On this side of the pond another Mark; Mark Fast, known for his signature body-con knits, cited the Twenties as his inspirational era – although his mini-lengths and figure-hugging styles more than winked at the Eighties.
While the fashion glitterati focused on Fast's intricate knitting patterns that clung to models in fine cobweb layers the tabloids, once again, raged on about the size of catwalk models. Picking up where we left off last season the British Fashion Council made a concerted effort to promote a healthy attitude to model well-being by way of nutritious snacks backstage, chill-out rooms and a ban on models under the age of 16.
Zip forward to the latest batch of shows and while agencies report an increase in requests for 'curvy' models a media frenzy erupts over Mark Fast's decision to use a few 'plus size' (UK size 12-14) models. Fast was keen to show that you don't have to be a size zero to wear one of his designs and in fact his dresses can look rather fabulous on curvy forms. A notion that apparently two of his creative team didn't agree with as they walked out days before the show. Hitting back amid the reports one of the creative's in question said that the row was over the girls not having the "right walk" for the catwalk and that it wasn't about the size matter at all. Whatever the reason the issue has gained column inches aplenty here in the UK.
Fast decided to use larger models after his involvement in the 'All Walks Beyond the Catwalk' exhibition, which featured models aged 18 to 65 and sizes eight to 16. Aside from the clingy dresses Fast also presented layered petal skirts, fine intricate pleats and ra-ra-esque frills revealing a modern spin on the age old craft of knitting.
JoJo Iles.