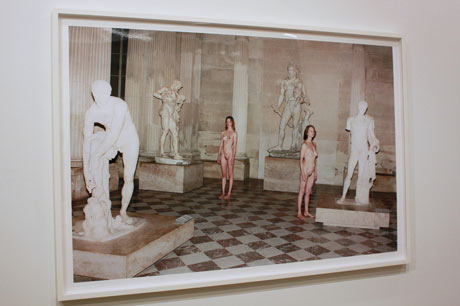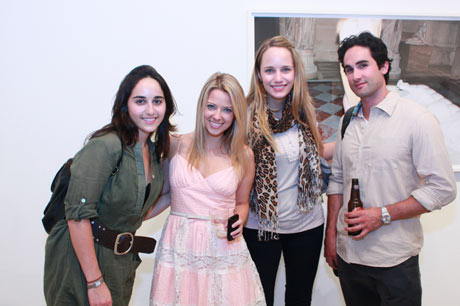 If I was a single, young male, I would highly consider becoming a platinum GenArt member. A platinum member automatically becomes part of the Collector's Circle and is invited to weekly art previews and receptions at galleries, museums, auction houses and private collections. These events not only involve interesting art and hard liquor, but also an opportunity to meet other members –  if last night's reception  at the Lehmann Maupin Gallery in West Chelsea was any indication, then these other members are mostly beautiful, young and hip women with interests in film, fashion, art and music. 
Juergen Teller's exhibition entitled Paradis after the French erotica, art and photography magazine by which it was aptly commissioned, provided an excellent break for the few young and single men in the room to discuss art with a room full of savvy women in a tightly-knit yet open setting – starting with the ironic inclusion of a photo of Jacques-Louis David's The Coronation of Napolean that dramatized the rest of the collection. The other eight photos, all taken in the Musée du Louvre, were much more raw, witty and borderline grotesque. Five of them feature English actress Charlotte Rampling and Brazilian model Raquel Zimmermann posing nude next to statues and painting, the last of which was the two of them posing next to the Mona Lisa. While the photographs featuring the ladies were not offensive, it was jarring to see how two naked, beautiful women could be de-feminized by far-away, angled shots, especially when placed next the other photos – like the statue of a man ripping out some sort of animal intestine or a sculpture that resembled a man bursting through the wall. The photos are in keeping with Teller's style, which often focuses on showing beautiful people in an unflattering light.
Though you may not want Teller shooting for your wedding album, his work is of an interesting, provocative and conversation-starting style; a style, which can be seen in his iconic collaborations with Marc Jacobs and Vivienne Westwood. To underscore the importance of his relationship with Jacobs, members received samples of Marc Jacob's Lola for attending the reception. My prediction: an increase in male GenArt members and their wing-buddies (via their two complimentary guest tickets) looking forward to flirting with fuchsia peony-scented women at the next event. See you there…
Go to Scallywag's Photo Gallery
Exhibit goes from Sept 10- October 17.