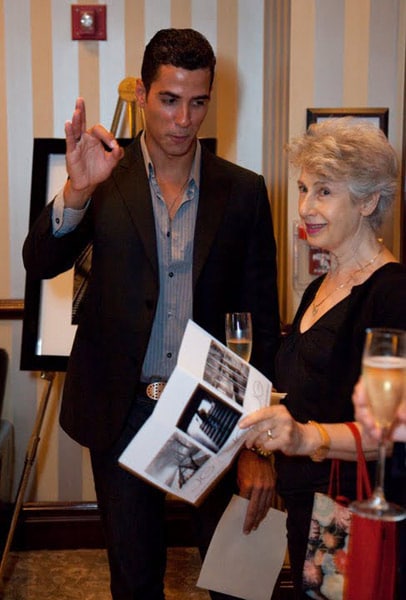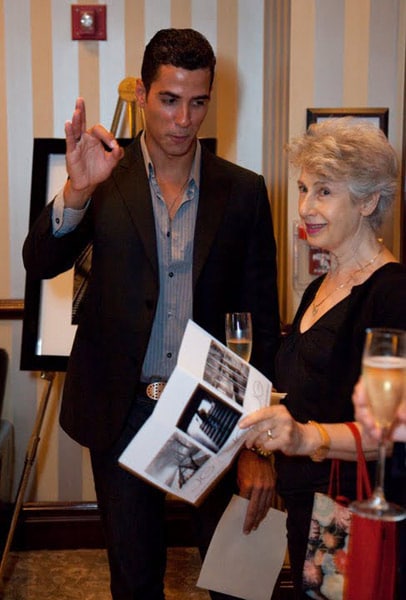 As the cabs honked their horns and screeched impatiently across the gravel down at Wall street, all important men suited up in smart business suits speed-walked home — probably to nurse a martini with their housewives. Standing under the sole spotlight of Cipriani Wall Street, I felt miniscule in the daunting tower that housed the restaurant. Flashes of 'buy,' 'sell' and frantic screaming men started to enter my imagination. The sense of history, grandeur and the spinning gravel certainly had me feeling I was about to enter a trading floor arena as opposed to an elegant tete a tete…
Entering the vast downtown Cipriani was a task in itself. Passing through a huge ballroom, up a few flights of carpeted stairs and through a small door, I was finally at the event of the night. Invited by Kevin Alexander from Planet PR I was standing in a room filled with two rows of photographs on either side of me. The host, the event coordinator, and the photographer of the night was: Javier Gomez. A dashingly handsome man walked around greeting everyone with a killer smile.( and I mean killer smile…)
His photographs were mainly that of nature – such as landscapes to spots in Central Park to a close-up of branches. He says, "I capture spirituality, architectural forms, and objects – nature inspires me." A former model (I knew those good looks had to have been put to good use somewhere) he became interested in photography and as his travels became more frequent, he found his camera capturing moments all over the world. With his paintings now being sold all over Miami, New York, and Panama, he is also looking to expand to Spain, Europe, and Asia.  
More than just an exhibition, it was also an event to raise awareness and charitable contributions in support of Parkinson's disease. Gomez states how he lost his grandmother from the illness, and was going to donate a part of the finances he received from selling his paintings at the event to APDA (American Parkinson's Disease Association) in support. All his paintings were limited editions photographs with reduced prices especially to honor the occasion. Sauntering around and observing such photographs called "Peacefulness," "Gates to Heaven," "Sensual Nature," and "Reflection," his photographs complemented to the atmosphere of the environment.  
So much for frantic men with sweaty arm pits and flashing numbers…
Go to Scallywag's Photo Gallery.