For those of you who don't know, Izzy Gold (actually Christopher Young but that's a name long going obsolete) is the man who has had a meteoric rise to the top of the music world is a product of raw talent, being there at the right place at the right time but mostly having the tenacity to keep doing what he believes in and being recognized by some of the most elite members of the music world.
Izzy's clientele includes New Order, Countess Luan from NY Housewives,  DJ Skribble who along with George Clinton whom he idolizes, Inspectah Deck from the Wu Tang group, Ashlee Simpson, B.Smith (who has taken to calling him her nephew…), the Raveonettes,  Richie Rich and  his latest hot find – Tonie Swan, a fourteen year old from Atlanta, Georgia who with her raw pop and dance music sense Izzy believes is destined for stellar things.
"They all come to me, and they just keep throwing these numbers at me and to be honest I keep asking myself how much do I believe in them, and how much can I do with them because eventually it stops being about the hits, the money but the beauty and the essence of the music and there are those raw talents I am committed to."
At this stage, we're all still in the back of Izzy's 'fuck machine' and for a moment we've come across a set of red lights when he gets up, pop his head out of the hood of the limo and sees what he can find. Within a minute Izzy has the driver pull over and has a bunch of gregarious French kids visiting jump in the back of the limo with us. To look at them is to laugh your head off, because they are quite ecstatic but no more than Izzy who by now is engaged in deep conversation with the young Frenchman reaching out to offer Izzy a Gauloise…
When Izzy first started playing music it was the trumpet, and he was damn good at it, so good that he got into an arts academy where he excelled and wowed a lot of people. It was only when his wisdom teeth had to come out that his career as trumpet player came to a quick close.
Fortunately for Izzy, he then came across Trixie Riess (his ex  wife )of  'The Crystal Method,' whom hired Izzy and with his help was able to secure various publishing deals  (EMI records) and migrated into other recording ventures, principally 'Cyber Slam.' From there came a set of events that eventually forced Izzy to fend for himself and that's when he let the world know just over two years ago he was for hire. Of course in those two years, with the acquisition of his licensed name catapulted as the word was put out that the guy with the crazy Mohawk and chain smoking habit could deliver  GOD to your doorstep.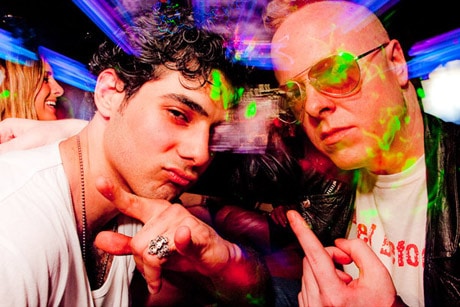 It's about three in the morning now and everyone has gone home (so I think) except for Izzy, his fiancé- Allison Petit and his chief engineer – Ahmad Farzad ( a Berklee graduate and the son of prominent of a famous photographer and not to mention prominent Iranian general) and here they are where everyone should be asleep working on a new body of work.
Sampling a range of music, from hip hop, classical, dance and rock I realize that Izzy is pure genius. 
"I go beyond genre, I'm building castles in the sky for you to escape into."
Building castles I think for Izzy to escape to…
"So there I am by myself in this rat infested room, my girl gone, George Clinton nowhere to be found and I just can't 'fuckin' take it because it's suppose to be Christmas day and I ask myself how the hell I got here and how I promised myself that this would never  happen again. After all what's perception, what's reality? What's a song, a tree falling in a forest if I'm the only one who can hear it?"
He smiles at me, lights his millionth cigarette and starts thumping something new on his sound table that just throws me for a loop and there's Izzy gung ho, pumping his fists in the air, pumping those castles further and faster into the atmosphere.
By this stage it's four o clock in the morning and I start to hear clamor and commotion and the sudden arrival of a new contingent. Izzy's extended family- musicians, designers, downtown artists, photographers and even his interns, and the wonderful Brad Leinhardt ESQ (one of the founders of IZZY GOLD RECORDS)- probably the only one not present at that moment.
"Izzy, don't these people sleep?"
"Never. They knew they would find me here and they we're right and now we're going to have another party."

From a distance I watch as now Dizzy starts playing his trumpet while Michael Freddo (Tommy Hilfiger the designer's nephew) begin to blast on the piano. They play, laugh, smoke cigarettes and leave the twenty of us in the studio room suddenly breathless. 
It is of course now that Shaggy, Patrick McMullan's photographer passes by too and wants to know if he has missed anything.
Izzy smiles, takes off the sunglasses, poses one more time and then graciously bows in front of his audience.
"No. I was just getting started…"