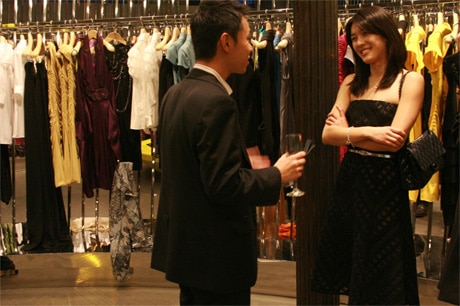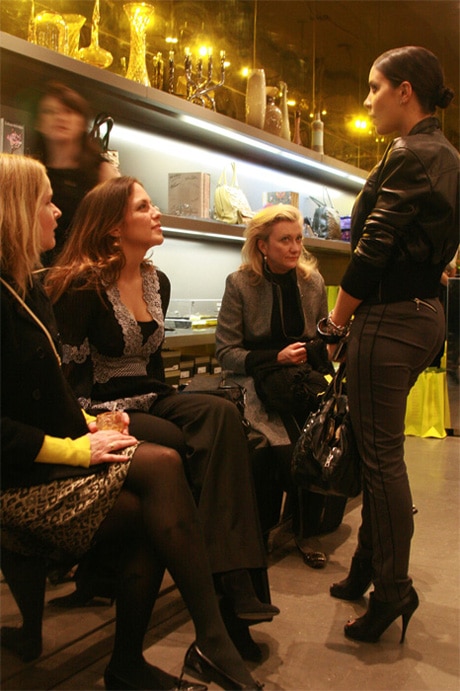 "Could you please check with the store manager?" I asked as the door to Catherine Malandrino's Soho boutique was firmly shut in my face. I forlornly pressed up to the glass and cried, "We're press!" The male model/gatekeeper then informed me that the store was "already at capacity," despite the total of 10 shoppers and the dozens of unclaimed glasses of Hypnotiq and champagne.
Fifteen minutes later, our people had spoken to their people, and we were welcomed in, fire codes be damned. This very exclusive shopping night was put on in part by the Catherine Malandrino store, and in part by stylist and personal shopper Karen Kleber. With all her top clients there ready to take advantage of the night's discount, Kleber seemed to exist in the eye of a perfect storm of finely embroidered caftan tops and gorgeously tailored party dresses. She was nice enough to take a few minutes off to tell me her favorite thrift shop (Cure Thrift on 12th) and what she loves about Malandrino's clothes (the versatility). But what we truly bonded over was our Southern roots, and she highly recommends Blue Smoke restaurant and jazz club for the best Memphis-style baby back ribs this side of the Mason-Dixon Line.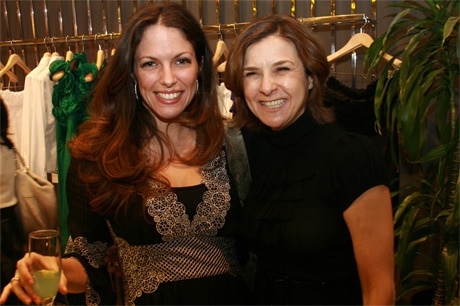 Speaking of jazz, one of the shoppers in attendance was Hilary Kole, a bubbly jazz singer whose CD, Haunted Heart, was included in the event's gift bag. We weren't allowed to have a gift bag, as they're for "paying customers only," but Kole was sweet enough to offer to send one herself.
Other guests ranged from painfully stylish Europeans to a short Asian man wearing a tired windbreaker from 1983. I brushed by a tanned, muscular man and wondered at his ability to bend his arms while wearing such a skintight button-up shirt. A well-heeled women held a dress up to herself, gazed in the mirror and expressed her mistrust when it came to the plebeians: "I just don't trust people who watch TV these days." I took a break to chat up the model/coat check boy, but when he mentioned being on spring break, I felt too pervy to continue the conversation. "Let me just see what our photographer's up to…."
Three cocktails and five chicken rolls later, afraid to touch the clothes made with layers of chiffon too delicate and finely wrought for oil stains, we left. The model/gatekeeper opened the door for us and thanked us for coming, without even a hint of irony in his voice.