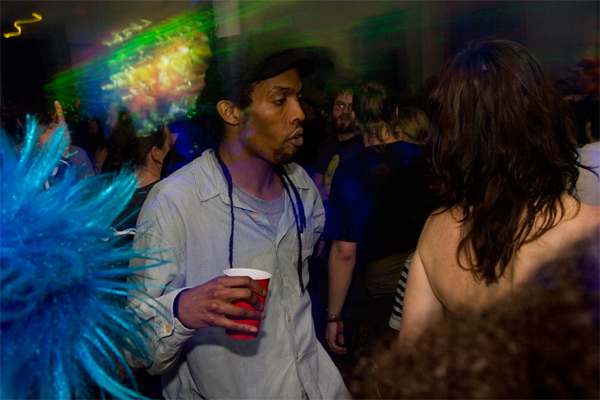 It's a scene that you don't normally hear about, the exultation, the propulsion, the melodic intoxication, and the liberation of sensory perception called Psych Trance.
When you walk into this frenetic beehive terminal you do so knowing full well when the plane takes off you will have no way of escaping but undoing your seat belt and exonerating the beast in you.
As I approached the terminal some time way past three in the morning deep in the industrial warehouse wastelands of the border of Brooklyn/Queens I could hear the throngs rumbling in the distance, The way one hears a plane lurch forward once the airport control tower (imagine one exists as it will help explain the phenomenal journey you are about to embark upon) gives the go ahead to ascent to the heavens.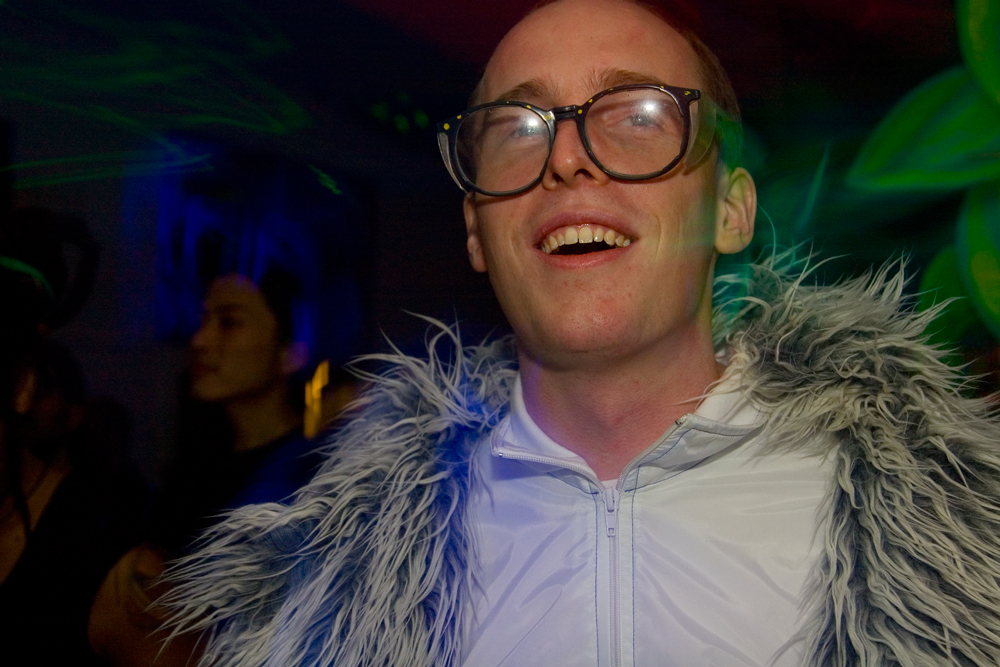 Past security and up the staircase cylinder that takes you into the fissures of the main body of the beast you are greeted by the ground staff who give you your final boarding pass into heaven's syntax.
Who's responsible for this flight is Michael Salkinder, he hasn't so much commissioned the maiden flight (well this was his second actually) but orchestrated all the key technicians, passengers, captains, co pilots, passengers and God himself. It's a conversation only few can have but somehow there in his red emblazoned 'Holland' jersey he has acceded to the idea that God and the heavens will take us mere mortals to his neck of the woods.
Past the final ticket counter, security wire, and into the beast you go. God takes one look at you and sucks you in with his angels and demons. Your first impulse is to turn away but the tingling in your spine makes you realize this is more than mankind. Past the neon lights reverberating there in front and beyond your mind, the dance chords lure you until you go blind.
There is no where to sit, this plane trip is standing room only, heart jerking spontaneity, contorted knuckles, knees and pumped fists and holy Jesus.
Your eyes follow the haggard lines, the oscillating hula loops, the clenched teeth, and the sidelong hum capitulating your intestines.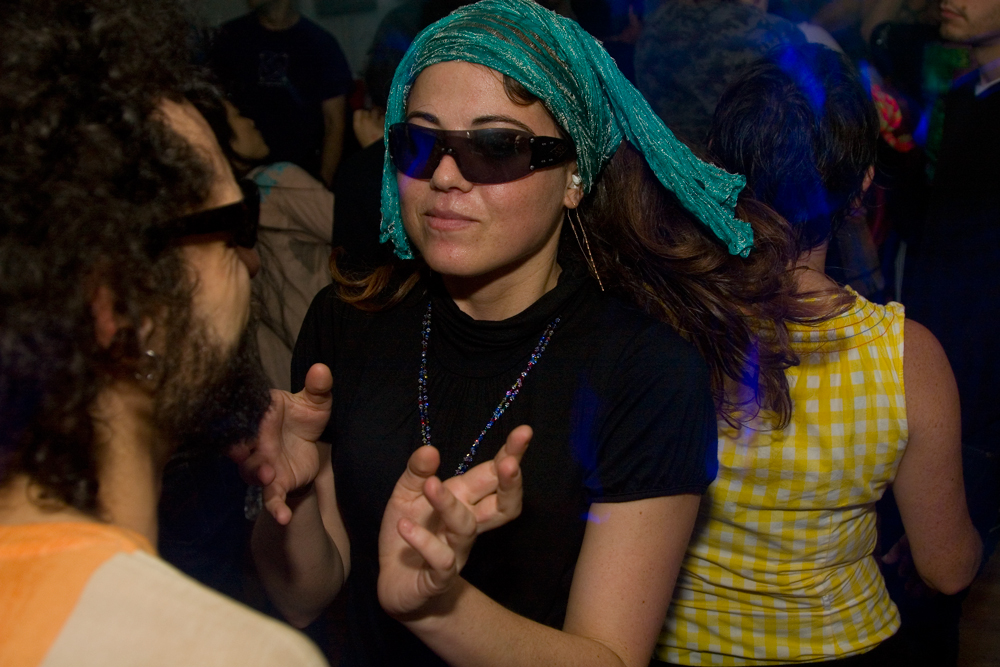 It's a scene apart from the mainstream, a flight path little known in the meat packing district, the uber thousand dollar bottle service. There is no bottle service only heavenly service courtesy of his majesty – KOX BOX.
He is God's anointed one, imported from Denmark, Ibiza, Portugal, Goa, India all this twenty years ago. Here tonight to take over his promising co pilots, here to take you to where Beethoven once took classical music, where Elvis Presley took jail house rock, where Bob Dylan took wood stock and past the pop icons that have long ceased to mean a thing to the dynamic duo of Peter Candy and Frank Marten, co conspirators of fluid electronic fluctuation. Here to escort you to a place you have no idea exists but so eager to gestate to.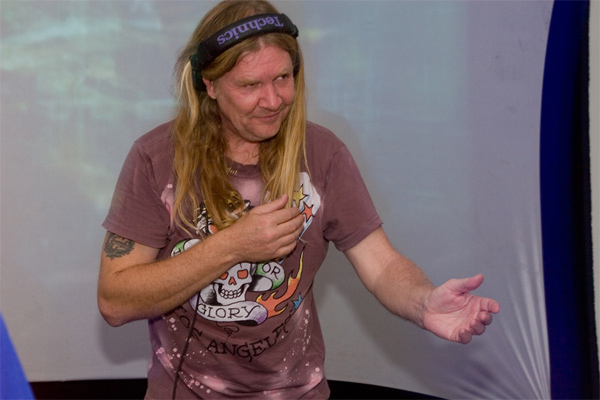 The blue hair, the pink hair, the stuff inside your spine, the ecstasy fluid rambunctious and out of control, if that is something you are willing to commit to. God will love you either way, will ignore the long, long lines in front of the bathroom doors, ignore the holes in your clothes, the sweat beads punching past your vertebra. Forgive you as long as you are here to dance. Here to let go, here to reclaim your million high soul.
And there you go thumping your wrist and heart at the same time, ascending, gesticulating, greeting God's many moons and comets. This guy wont let go, he's smiling and thumping his duo turntables, a modern day Beethoven thrashing you apart, but the truth is he wants you to thrash him apart, and so you do and in return he thrashes you higher, the shoulder blades the perimeter of black hole planes.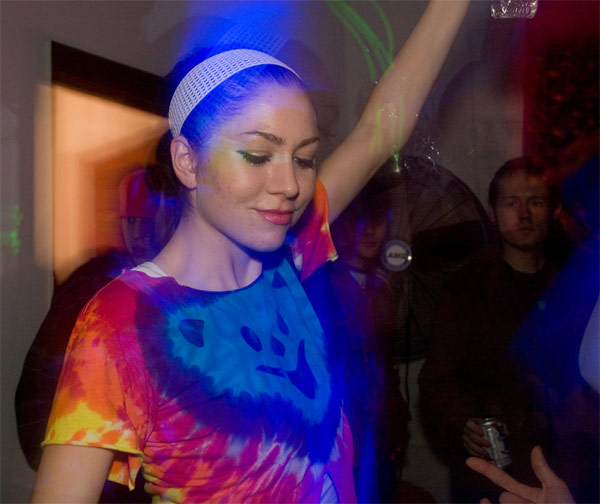 You have to stop, and you know you should, the nosebleed is severe, the altitude very unclear but that wouldn't be fair to yourself or the God there embracing you. Rub your ankles against his, hers, leg room, that's a myth here, and like most myths and ideas in outer space they carry no weight.
Your looking out the window and all you can see are asteroids careening towards you, beyond you and through you. And this is what you wanted, to find your way to be invincible, immortal and unaffected by standards, bottle service, guest lists and fidgety models who are inclined to feel they are beyond you. And yet the place is full of models, full of bohemia, full of academia, full of sublime love that is stellar.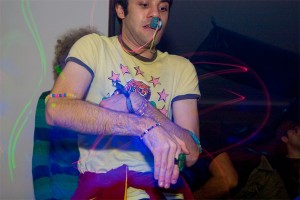 The music whimpers down, ahh you think he's not the God he thinks he is, even KOX BOX has to return to his mortality, but he is a sly one, as he lulls you in, like a fox stalking the chicken coup and before you even know it he is there weaving his majesty's calling through your blue arteries. 'God help you' you think, punching those knees and fists way past heaven and into the fox's hungry mouth, I'm being eaten alive and rejuvenated at the same time.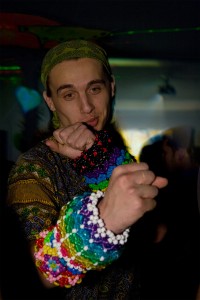 They're all there, from Napoli, Kryzghstan, Seattle, Copenhagen and even Tribeca. Thousand word of mouth friends of Michael, illustrious and God's disciple. These are your fellow passengers and any other day, any other flight you might curse at them, not look them in the eye, but here you are all God's children and they love you, love you nearly as much as KOX BOX loves you.
All inquiries to Michael's next event should go to YOGI BOGEY BOX.
yogibogeybox@gmail.com