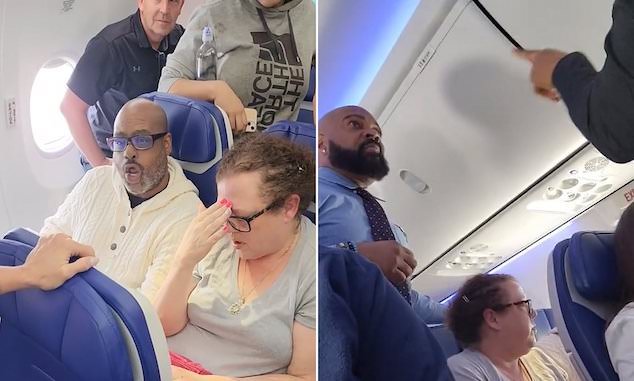 Southwest passenger screams at crying baby as man is forced off plane at Orlando airport as video captures passenger meltdown. Social media divided. 
It's a situation most of us have been through, the screaming baby that just won't let up. That thought didn't stop one Southwest Airlines passenger making a scene about the child'd crying mid-air, only to find himself being arrested in Orlando, Florida soon after.
The misery unfolded when a Southwest flight was forced into a holding pattern around the area outside Palm Beach due to a bad weather front – at which point the young baby started crying. 
The epic tantrum – thrown by the grown man, not the toddler – left other passengers in hysterics as he screamed about the baby's consistent crying for 45 minutes, before the irate passenger was being apprehended by authorities at the airport.   
Video shows the 'clearly' frustrated male passenger, who has yet to be identified, to the chagrin of his wife, ranting about how he paid a ticket to have a comfortable flight – only to be stymied by the inconvenience of a crying child.
Which is to ask why is fate so often rude and unappreciative to us mere mortals? Especially those of us seeking un-interrupted stellar flying experiences, screaming babies aside (including those naughty passengers), and the odd turbulence or lack of drinks on offer. 
I am not part of the community that believes children/babies shouldn't fly HOWEVER, I do believe certain communities do not properly manage their children in public and I understand why that might drive someone to lose their mind. pic.twitter.com/qAGYviNlye

— I ❤️ Jews, Please dont close my accounts. (@LaCienegaBlvdss) April 18, 2023
'Did that mf pay extra to yell?'
The furious passenger was later seen inside the airport being escorted away by police, after refusing to disembark the aircraft following his meltdown.
It is unknown if Orlando was the plane's final destination or if it landed to boot the unruly passenger off.
During his foul tirade, directed at the parents of the shrieking child and flight staff, the rowdy passenger said: 'There is a child crying on the flight, non-f***ing-stop.
'Calm the child down, please. I'm not screaming. Do you want me to scream? I'll f***ing scream.
'We are in a f***ing tin can with a baby in a goddamn echo chamber and you wanna talk to me about being f***ing ok?'
A Southwest staff member, trying to calm the situation, said to him: 'Ok, because you're yelling…'
But he was quickly cut off with the man shouting back: 'So is the baby!'
Flight attendant: "You're yelling"
Passenger: "So is the baby!"
Flight attendant: "Well you're a man"
Passenger: "Did that mf pay extra to yell?"

Lmfaooooopic.twitter.com/qDSFV89ay6

— Akhil Vohra (@asv141) April 18, 2023
'F**k that baby.'
When the air steward tried to rebut and say that it is different because he is in fact a grown adult, the shouting customer yelled: 'Did that motherf***er pay extra to yell?
Yes kids, you know where this is all leading to…
'F**k you and shut up,' the irate man retorts.
When the staff member asked him to lower his voice, he shouted back: 'Can you lower THAT voice?' in reference to the child's howling.
As the woman sitting next to him quickly tried to calm him down, the angry passenger was heard saying: 'I don't give a f**k.
'F**k, lower that baby's voice. I'm triggered, f**k that baby.'
Define flying etiquette 
Multiple members of the airline's staff also tried to reason with the screaming passenger – to no avail. In the video, he said that he was asleep with his headphones in, but was still disturbed by the child.
Throughout the clip, the child's wailing could be heard in the background.
After the air steward seemingly tried to reprimand him for his expletive-ridden attack, he added: 'I know an attorney just like you motherf****r, I got rights.'
'If I hadn't have said anything, we would be sitting on this motherf*****g flight with a kid crying for 45 minutes. Bulls**t.'
The airborne saga did not end there with witnesses saying said the rowdy passenger refused to get off of the plane in Orlando – forcing the entire flight to be deplaned.
Because if a baby can be a nuisance, why not a full grown adult, who ought to know better? But then again, who bothers with flying etiquette these days, anyway? Not you right?
To date it remained unclear if our collective hero faces any charges or action from the airline.