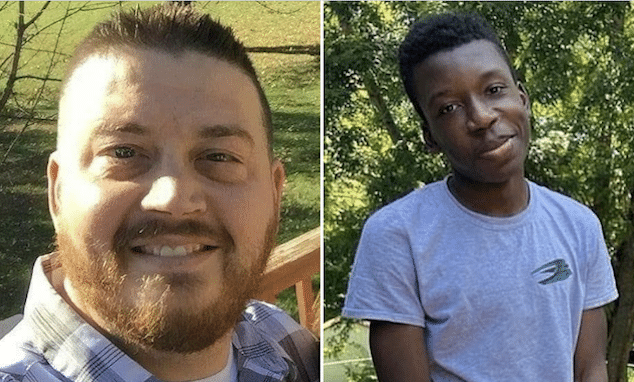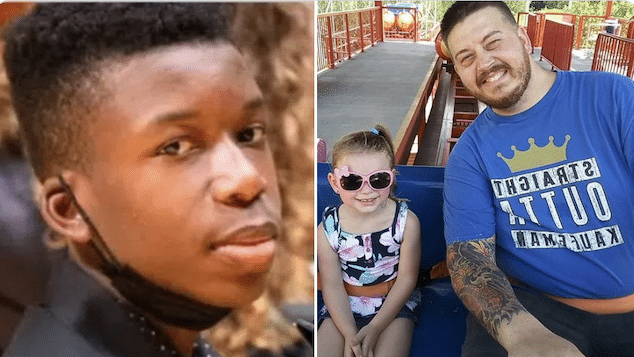 James Lynch Kansas City neighbor hailed a hero after coming to the rescue of Ralph Yarl after the black teen boy was shot at by 85 year old homeowner, Andrew Lester after mistakenly knocking on the wrong door while picking up brothers. 
'He didn't deserve to get shot!' A neighbor who rushed to help a 16 year old black boy after he was shot by a Kansas City, Missouri homeowner after mistakenly knocking on the wrong door – told media that he initially believed the victim to be dead, before his Eagle Scout training kicked in to stop the teen's bleeding.
James Lynch, 42, who has since been hailed a hero, told NBC News he had just gotten out of the shower Thursday night when he heard gunfire, so he went to his kitchen window and noticed a boy, since identified as Ralph Yarl banging on someone's door.
'I heard somebody screaming, 'Help! Help! I've been shot!" the father of three told the outlet.
The Good Samaritan ran outside, jumped over his fence and ran to Yarl, whose face and arms were covered in blood – and saw what appeared to be a head wound near the 16-year-old's eye socket.
'I thought he was dead,' Lynch told NBC News, adding: 'No one deserves to lay there like that. He hasn't even begun to live his life yet. He didn't deserve to get shot.'
'That kid is tougher than I am,'
He said he recalled his old Eagle Scout training and began administering first aid with the help of another neighbor who arrived with some towels to stop the bleeding.
'I'm going to grab your hand really tight,' Lynch said he told the boy before checking his wrist for a pulse.
He also asked the teen his name — which Yarl managed to spell — and what school he attends as they waited for paramedics to arrive.
Lynch has since dismissed claims that he was a hero.
'I didn't do anything but hold a kid's hand so he wouldn't feel alone. He had just gotten shot twice — he had a hole in the side of his head. That kid is tougher than I am,' he told NBC News.
Andrew Lester, 85, the white man who allegedly shot Yarl in what the Clay County Prosecutor's Office said was a crime that had a 'racial component,' was charged Monday with first-degree assault and armed criminal action.
A warrant was issued for Lester's arrest and a bond of $200,000 was set for him.
Would the homeowner still have shot the teen had he been white instead? Kansas City 85 year old man charged with racial shooting of 16 year old black teen knocking on wrong door https://t.co/xdHsfQu4SM #Andrew Lester #AndrewLester #Ralph Yarl #RalphYarl #Missouri pic.twitter.com/bsd8R9dqDJ

— Scallywagandvagabond (@ScallywagNYC) April 18, 2023
No words were exchanged before homeowner shot at teen boy twice
He allegedly shot Yarl twice with a .32-caliber revolver – once in the head and once in the arm – after the teen mistakenly knocked on his door to pick up his younger twin brothers, who were actually at a nearby home.
Lester exchanged no words with Yarl before he shot him through a glass door, Clay County Prosecutor Zachary Thompson told reporters.
It also was revealed that there were signs warning against solicitors and trespassers at the residence.
Yarl has been released from the hospital and is recovering at home, family attorney Ben Crump said.
'The prognosis is that he's young and strong and he's a fighter… but it's just the beginning — he's not out of the woods yet,' he said about the promising young student and musician. 'The great thing is [doctors] said he was stable enough to go to his home.'